Graduate Student Spotlight: Zachary Gresham, M.A. in Arts Leadership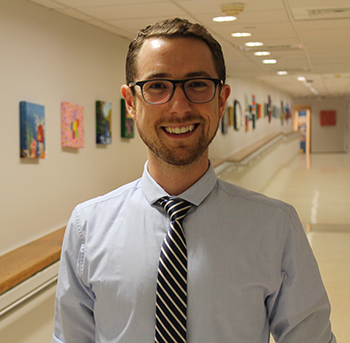 Graduate student Zachary Gresham says he was a nerdy kid who overcame being shy by performing his way through awkward moments. The fine arts gave him a sense of belonging and helped him find an accepting social circle and a professional career.
"The arts connected me to like-minded peers," he says "I could excel in the arts much easier than in many of the core school subjects."
His desire to help future generations of children to use the arts to build their self-esteem led him to pursue two graduate degrees at UH simultaneously – an MA in Arts Leadership from CLASS and an M.Ed in Curriculum and Instruction - Art Education from the UH College of Education.
At the same time, he worked full time as the Education Programs Director at Art League Houston and completed a 300-hour practicum with the Mayor's Office of Cultural Affairs at Houston City Hall.
And he's training to complete his seventh marathon in January.
And he plays cello with the Symphony of Southeast Texas.
He doesn't sleep much.
"I've had a lot of sleepless nights," Gresham says. "I was forced to find ways to do everything I wanted and needed to do."
Gresham grew up in Beaumont, Texas. After graduating from high school in 2005, he enrolled at to the University of Texas at Austin to pursue an undergraduate degree in music and continue playing the cello.
"Towards the end of my freshman year, I decided to change my major, but was unsure of what I wanted to do. I began volunteering at the Blanton Museum of Art in Austin and became very interested in the art history courses that I was taking," he recalls.
He enjoyed his volunteer experience so much, that he took a summer internship back home in Beaumont at a small museum. He was ultimately offered a job there, so he transferred to Lamar University in Beaumont where he earned a degree in history with a minor in art history in 2008.
Believing moving to a larger city would offer him more opportunities, he moved to Houston shortly after his graduation, and worked part time at the Lawndale Art Center while working additional jobs as a coffee house barista and as an intern at The Menil Collection. He later worked at the Museum of Fine Arts Houston, which ultimately led him to his current position at Art League Houston.
"I oversee all aspects of the Art League School, from student registration and enrollment goals, to payroll, to creating marketing collateral," he says. "Because we are a small, non-profit visual arts organization, anything related to learning and education, I oversee."
As he contemplated returning to school to earn a graduate degree, Gresham was intrigued by the way the CLASS's MA in Arts Leadership program connects students to the Houston arts community through hands-on coursework. In addition, he appreciated that the program would allow him to continue working full time during the day while taking coursework in the evenings.
"Zachary exemplifies effective leadership in all his endeavors," says Fleurette Fernando, MA in Arts Leadership Director. "He was able to balance the demands of a full time job in the arts while completing not one, but two graduate degrees at UH in merely 18 months. In addition, Zachary was able to maintain a 4.0 through his degree."
Gresham plans to continue working in Arts Education as a career. Currently, he doesn't intend to teach in schools, he wanted to earn the degree in education to give himself academic understanding of visual art education which should aid in his career in arts education as an administrator.
"I want to be able to advocate for and help develop stronger arts education programs in schools and in the community, whether that's working in a community art space, museum, university, school district, or local or national arts agency – this is what I love and feel there is a need for," he says.
But first, after his graduation this December, he plans on taking a long overdue vacation.
"Ultimately, I will likely find ways to fill up my time again with new activities – whether taking a studio art class at Art League, playing more gigs, or volunteering. I really enjoyed my time at UH, but I think I am done with school for a while," he says.
"I have no doubt that Zach will continue to be a great ambassador for our Arts Leadership program and will be a leader to watch in our arts community. Bravo Zach!" says Fernando.
- By Monica Byars