Order of Omega is a national honor society, founded in 1959 at the University of Miami, to recognize those individuals in the fraternity and sorority community for their service and achievements. The purpose of the Order of Omega is threefold:
To recognize those students who have attained a high standard of leadership in inter-Greek activities, to encourage them to continue along this line, and to inspire others to strive for similar conspicuous attainment.
To bring together the most representative fraternity and sorority members, and to create an organization which will help to mold the sentiment of the institution on questions of local and intercollegiate affairs.
To bring together members of the faculty, alumni and student members of the institution's fraternities and sororities on a basis of mutual interest, understanding, and helpfulness.
Each year, the Kappa Tau chapter at the University of Houston selects qualified members to join the Order as a celebration and recognition of their leadership in their organization, the FSL community, and the greater campus community. Only up to 3% of members of the University of Houston fraternity/sorority community are eligible to join the order per academic year.
Eligible students must meet the minimum qualifications:
Must have completed at least 60 credit hours
Must be a currently enrolled student
Must be currently active in a University of Houston fraternity/sorority recognized/supported by CFSL
Must have a cumulative Grade Point Average above 3.00
Fall 2021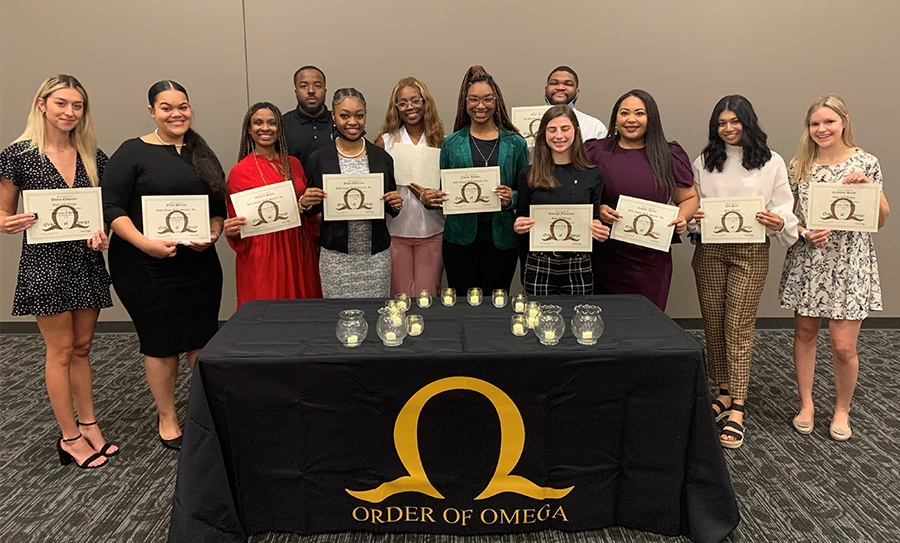 Undergraduate Initiates
Taylor Anthony, Alpha Kappa Alpha Sorority, Inc.
Thalia Chapman, Alpha Chi Omega
Cassidy Daniel, Delta Sigma Theta Sorority, Inc.
Emileigh Falterman, Alpha Chi Omega
Pamela Jimenez-Guevara, Alpha Chi Omega
Daria Minniefield, Alpha Kappa Alpha Sorority, Inc.
Nili Patel, Delta Gamma
Olivia Pittman, Alpha Kappa Alpha Sorority, Inc.
Catherine Rucas, Alpha Chi Omega
Jeremiah Sowell, Alpha Phi Alpha Fraternity, Inc.
Amiah Williams, Alpha Kappa Alpha Sorority, Inc.
Honorary Initiates
Jarell Miller, Iota Phi Theta Fraternity, Inc.
Michelle Smith, Delta Sigma Theta Sorority, Inc.