Bachelor of Science in Industrial Design
The program for the Bachelor of Science in Industrial Design degree is a four-year curriculum with a minimum 132 semester hours. The degree includes the university's required core curriculum and 19 hours of elective courses. Because of the mutual and overlapping bonds of architecture, interior architecture, and industrial design, the programs share a common first-semester curriculum. 
Students interested in the Bachelor of Science in Industrial Design should follow the procedure for application to the Hines College. Degree plans are not official unless/until students meet with their academic advisors. 
View the Degree Plan     Apply Now
---
Master of Science in Industrial Design
The Master of Science (MS) degree in Industrial Design is a two-year curriculum committed to design innovation, research, and commercialization. Forged by connections to the medical, energy, aerospace, and entertainment industries in the context of Houston and the State of Texas, our graduate program advocates for a new form of design knowledge, merging theory and practice, and providing a new perspective on creativity, product and system development, services, and the environment with an emphasis on interdisciplinary studies.
Degree Plan: Personalized Program of Study
Each graduate student develops their personalized curriculum in consultation with the co-directors of the industrial design program based on the student's needs, interests, background, and specific area of study. An interdisciplinary study plan of 36 credit hours (15 required, 9 ID electives, and 12 general electives) needs to be completed for graduation. Elective courses may be taken in other departments and colleges at the University of Houston, as needed.
The MS degree offers two certificate options with internationally recognized programs at the University of Houston:
Entrepreneurship Certificate with the UH Wolff Center for Entrepreneurship (ranked #1 undergraduate entrepreneurship program in the US by the Princeton Review and Entrepreneur's list of Top 50 Best Programs)
Foresight Certificate with the UH Foresight Graduate Program to explore the future, as well as anticipate and prepare for change
Candidates without an undergraduate degree in industrial design are advised to complete an additional 17 credits to develop fundamental design thinking and visualization skills. The co-directors and faculty of the ID program will advise and approve appropriate courses, including undergraduate ID studios.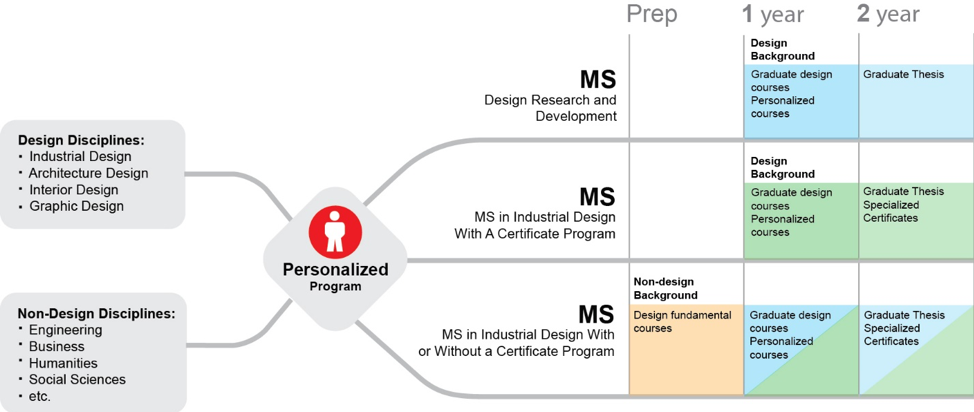 View the Degree Plan     Apply Now
---
Industrial Design Program Brochure
Read more about the program and degree offerings in the brochure below for prospective students.