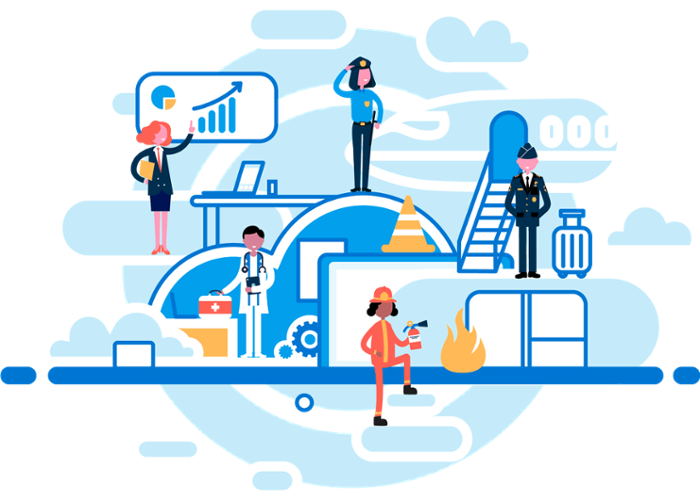 From hurricanes to power outages, a key component of any emergency response is having timely and efficient communications—and the pandemic is no different in that respect.
Providing systematic and accurate notifications, especially with COVID-19 reporting, relies on many intricate pieces of the puzzle in terms of a person's location, time of interaction, as well as the journey each individual had before and after the potential exposure, according to Ginger Walker, director, Emergency Management.
At the outset of the pandemic, developing a notification system that would be adaptable to the unforeseen challenges of the pandemic was not totally unchartered waters, but required the ability to think in terms of "what if" vs. "not possible."
"We were so lucky to have Brian Hall who single-handedly took this on like an explorer in unchartered waters with an inquiring mind and a passion for detail," said Walker. "He literally built this based on a series of questions and what's known as 'logic data' that provides a sequencing structure based on how individuals respond to each question."
Moving from a manual to an automated process early on was a learning curve, but one where perseverance and persistence paid off, according to Hall: "While the Veoci platform was already in use for managing emergencies on campus and had been in place for the response to COVID-19, the expansion to use it for contact tracing was an added bonus," he said.
What sounds simple and straightforward is actually a most complex challenge, given the many factors contributing to the system analytics involved and successive questions that would need to be input to determine next steps.
Through a series of trial and error, testing and retesting the system, and countless hours of inquisitive research and coding, the hard work and perseverance led to the notification system used today that is extremely responsive and efficient, providing data and connectivity in an instantaneous manner when it matters most without delay.
As continual enhancements are part of the process, Hall stands ready for modifications along the way. "Using the system daily and creating the work flows myself, any challenges are easily amended," he said. "I am also part of a Texas Veoci Users Group, which is comprised of other Texas higher education institutions that use Veoci who work together on projects and regularly have virtual meetings to connect and chat -- having that support has also been helpful to ensuring success." 
Based on the responses of each reporting form submitted, the automated system then notifies the University's primary contact tracers led by UHPD Chief Ceaser Moore, whose entire 200+ team have completed certification training as the "disease detectives" for follow up as appropriate.
"Along with the Office of Emergency Management, the collaboration of our key partners across the UH community, in alignment with HIPPA-compliant regulatory guidelines, processes and procedures have been keys to success," said Walker.
It's just all in day's work, according to Hall. "Honestly, perseverance is part of the job," he said. "Having open communication with the entire team really does inspire me, because we are all in this together and the safety of our entire campus community is what we strive for." 
For more information and the latest updates, visit the UH COVID-19 site.