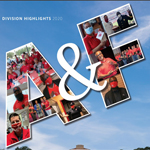 With challenges come opportunities, and while the past year has been a whirlwind of constant change throughout a very dynamic situation, what is important is what has not changed.
And that is the spirit of service excellence that is showcased throughout these pages encompassing every aspect of the Division in support of the overall mission to the University and the broad UH community.
"Providing customer service excellence is why we are here and will always be our division's number one objective,"said Senior Vice Chancellor and Senior Vice President, Raymond S. Bartlett.
"From the front lines to state-of-the-art programming and operations, we are delighted to showcase the accomplishments of all of our dedicated employees who embody the A&F S.P.I.R.I.T. in all that they do each and every day in support of the University's strategic plan." Click here to read the A&F Division Highlights 2020.