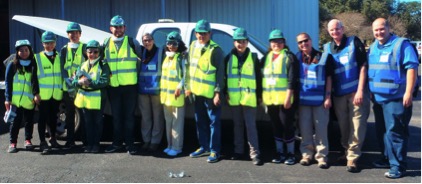 Another University of Houston Community Emergency Response Team (CERT) class graduated on February 1st.
The class consisted of students and staff members from all areas of campus. The group dedicated twenty-four hours over two consecutive weekends learning lifesaving skills that can be used following a disaster when first responders are overwhelmed or not immediately available. During the two weekends, the class learned how to put out a fire, basic first aid skills and how to handle victims during a disaster situation, to name a few.
The class ended with a final drill that allowed participants to practice their skills in a disaster scenario. The drill gave the newly trained CERT members an opportunity to utilize the skills they learned in a life like disaster scenario. The CERT instructors designed the drill as to make it as genuine as possible to give the participants the best possible experience.
The University of Houston's Office of Emergency Management, in conjunction with the Fire Marshal's Office, offers this training class at least once per academic year. In addition, various opportunities throughout the year are held to help UH CERT members refresh skills learned in the training class. The CERT course is FREE of charge to participants. For more information, about the CERT program, please check out our CERT website.