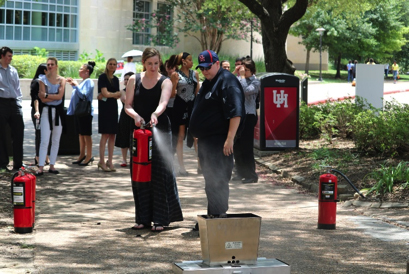 The University of Houston Fire Marshal's Office offers free hands-on fire extinguisher training to the UH community.

This training consists of a short classroom instruction period and then a hands-on portion where class members get to practice putting out a small fire with a fire extinguisher. Class size can be as small as five people and up to 20 people. Departments and groups with more than 20 people will usually be divided into smaller groups. 

If interested, please contact Chris McDonald at cjmcdonald@uh.edu or 713-743-5866, or Wendell McCloud at wlmccloud@uh.edu or 713-743-0515.