Hispanic Healthcare Certificate Program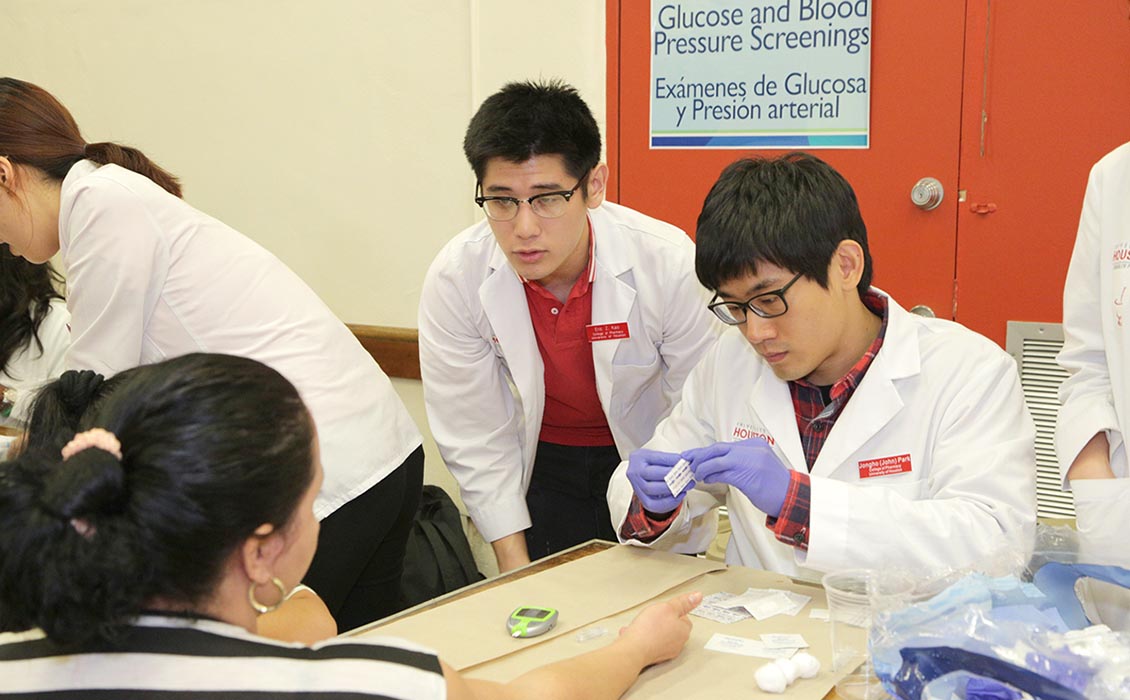 In collaboration with the University of Houston Hispanic Studies Department, the University of Houston College of Pharmacy offers a Pharmacy Certificate in Hispanic Healthcare to provide Pharm.D. students with advanced skills and knowledge to deliver culturally and linguistically competent pharmacy care services to Hispanic and Spanish-speaking patient populations.
The 18-hour Pharmacy Certificate in Hispanic Healthcare program includes two core courses (6 credit hours), followed by 12 credit hours of Advanced Pharmacy Practice Experientials (APPEs) in healthcare settings serving predominantly Hispanic/Spanish-speaking patient populations.
Program Flier PDF
Core Courses
The core courses provide the mastery of the Spanish language and Hispanic culture needed to interact and work with these growing communities, which includes some specific health and medical experiential learning and practice through fieldwork and/or public service/outreach. For example, past program participants have attended field trips to neighborhood yerberias (herbal "folk medicine" shops) to gain knowledge of common herbal remedies, which may aid in the identification and prevention of food-drug/drug-drug interactions. The core courses are taught by faculty members in the UH Department of Hispanic Studies.
The program is made up of two, 3-credit hour undergraduate Spanish courses being offered by the Hispanic Studies Department:
SPAN 3343 - Spanish for the Health Professions
Credit Hours: 3.0 (3-0), offered Spring and/or Fall semesters
SPAN 3339 - Spanish for the Global Professions
Credit Hours: 3.0 (3-0), offered Spring and/or Fall semesters
Both of these courses will be accepted as transfer credit for two of the three required pharmacy electives for the current Doctor of Pharmacy degree plan. To enroll in and complete these two courses a student must be at the intermediate to high level of mastery of the Spanish language. More on Core Courses
Note: It is recommended that students take SPAN 3343 first in the fall, as this course will prepare them for interaction with Hispanic/Spanish-speaking attendees at community health fairs.
Experientials
After completion of the classroom-based portion of the program, students complete two 6-week rotations of Advanced Pharmacy Practice Experiences (approximately 40 hours per week) at ambulatory/outpatient clinics categorized as Federally Qualified Health Centers (FQHCs) and/or retail pharmacies in areas serving predominantly Hispanic/Spanish-speaking patient populations.
The experiential component provides opportunities for real-world application of students' knowledge to enhance patient comprehension of, and adherence to, their therapeutic regimens, reduce adverse drug reactions and interactions, and decrease hospitalizations, readmissions and overall healthcare expenditures.
The internship hours align with the students' interest in providing pharmacy healthcare services to Hispanic populations. Students will be assigned to APPE sites by the College of Pharmacy's Experiential Programs Office.
Eligibility Requirements
The Core Courses are taught at an intermediate/advanced level of Spanish. Eligible students would have fulfilled one or more of the following criteria:
Successful completion of four semesters of College Spanish, preferably at the advanced level.
Successful completion of AP Spanish courses in High School with AP scores of 4 or more.
Fluent speakers of Spanish, either Hispanic Heritage speakers or speakers who have had long-term immersion experiences or have lived abroad in Spanish speaking countries.
Spanish Core Courses Contact
Laura Zubiate, Ph.D. 
Department of Hispanic Studies
438 Agnes Arnold
mlzubiate@uh.edu
713-743-3007
Pharmacy Experientials Component & General Inquiries Contact
Elizabeth A. Coyle, Pharm.D., BCPS, FCCM
Associate Dean for Academic Affairs & Clinical Professor
University of Houston College of Pharmacy
4349 Martin Luther King Boulevard, Room 3044
Houston, TX 77204-5000
eacoyle@central.uh.edu