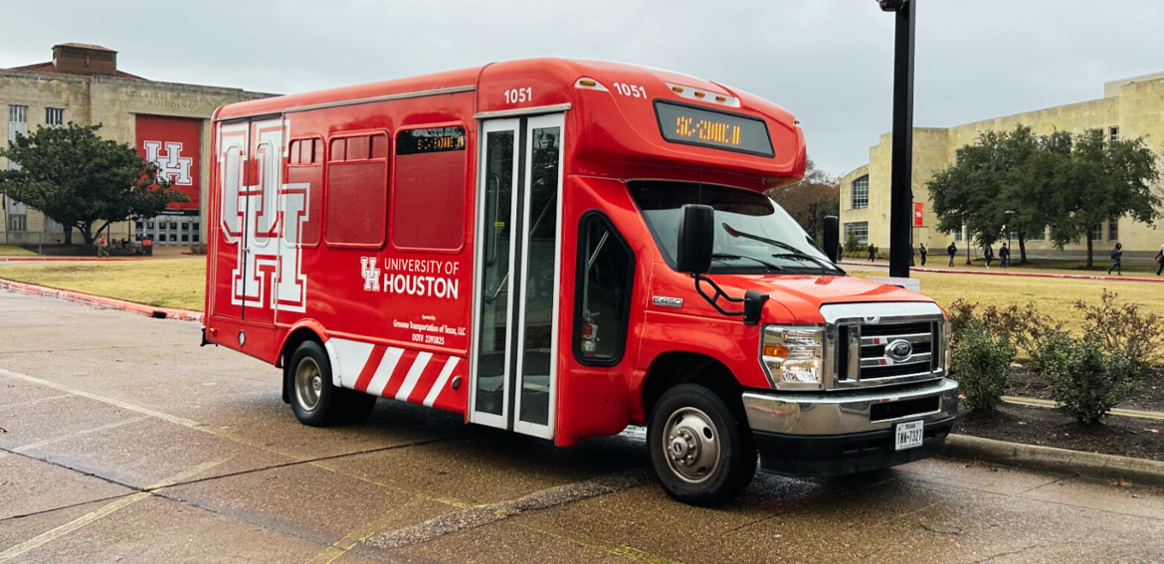 North Route
Days of Operation: Monday-Friday
Hours of Operation: 7 a.m.-7 p.m.
Shuttle Stops: Go to the tracking maps, then click on the button for each route to see where the buses stop. Stops include Fleming, PGH, MSM, Entrance 18, Elgin-East, Law-East, Bauer-South, Student Center, CPH/Library, UH Technology Bridge, Bauer-North, Law-West, Elgin-West. Zone A, Alumni Center
Student Center/Zone D Route
Days of Operation: Monday-Friday
Hours of Operation: 7 a.m.-7 p.m.
Shuttle Stops: Student Center, CPH/Library, Rec Center-South, Cougar Village/Moody Towers, DART Center, Zone D, College of Medicine, Rec Center-North
PGH/Zone E Route
Days of Operation: Monday-Friday
Hours of Operation: 7 a.m.-7 p.m.
Shuttle Stops: Fleming, PGH, Stadium-South, Zone F, Cambridge Oaks-South, Cullen Oaks-South, Zone E/8A, Zone E/9C, Cambridge Oaks-North, Quadrangle, Stadium-North
Sugar Land Route
Days of Operation: Monday-Friday
Shuttle Stops: Student Center South / Technology Building at UH at Sugar Land
Hours of Operation: 7 a.m.-10 p.m. Monday-Thursday; 7 a.m.-7 p.m. Fridays
Service: A one-way trip is approximately 40 minutes. The bus will remain at each stop five minutes before departing. All buses are ADA accessible.
Please note: The Sugar Land shuttle is intended for students, faculty and staff who attend classes and/or have business/meetings at both the main campus and in Sugar Land. It is

not

 an alternative for students, faculty and staff who live in Fort Bend County and the Sugar Land area to commute to campus.
Cougar Trax Shuttle Tracking
Cougar Trax is a real-time GPS tracking system designed to show you when the next UH shuttle will be at a specific shuttle stop. Access Cougar Trax on the website or through the UH Go app.
Advertise With Us
Advertising space on the shuttle buses is rented on a monthly basis. Learn more.
Lost and Found
For lost and found inquiries, please email parking@uh.edu.