Award Recognizes Significance and Impact of Research
Each semester, the Dan E. Wells Outstanding Dissertation Award is presented to a doctoral student who has performed outstanding research and submitted the best dissertation to the College. The Spring 2022 recipient was Spencer Fuston, a geology Ph.D. graduate in the Department of Earth & Atmospheric Sciences.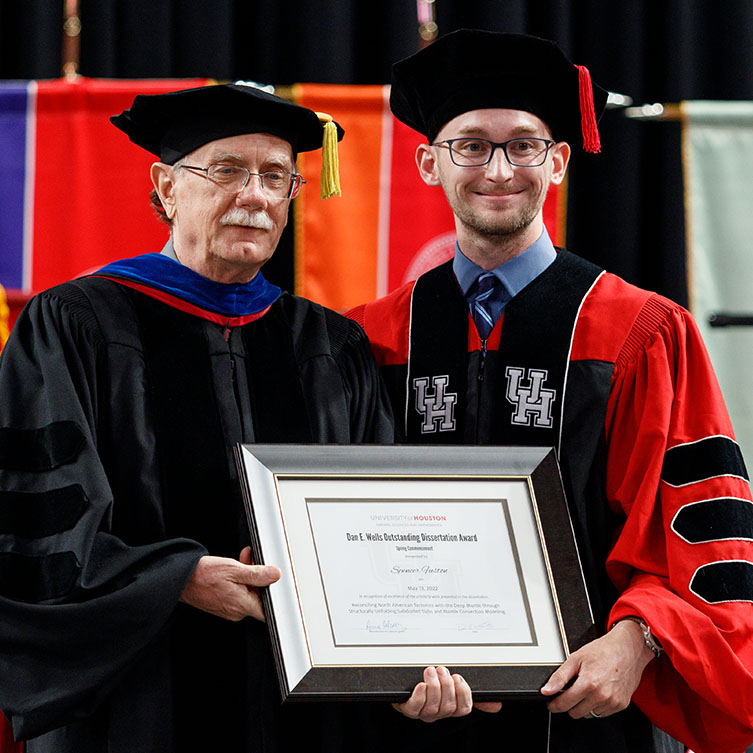 The award was announced at the University of Houston Commencement for the College of Natural Sciences and Mathematics on May 13. Fuston received a certificate and an award of $1,000.
His dissertation is titled "Reconciling North American Tectonics with the Deep Mantle through Structurally Unfolding Subducted Slabs and Mantle Convection Modeling." The result of his research is a new plate tectonic reconstruction of Western North America since the time of the dinosaurs, made by restoring tectonic plates lost to subduction.
These findings represent a paradigm shift in our understanding of the tectonic history of North America, for which he received media coverage in international news outlets. His advisor was Jonny Wu.
Fuston has accepted a position with EOG Resources, an oil and gas company.
For the award, nominated dissertations are evaluated for:
Significance and impact of the research
Originality of the work
Quality of the scholarship
Quality of the presentation and organization of the dissertation
- Kathy Major, College of Natural Sciences and Mathematics