Competition Included Posters from Industry Professionals and Students
Md Nahidul Hasan, a University of Houston Department of Earth and Atmospheric Sciences Ph.D. student, was awarded the third place Gordon I. Atwater Award for Best Poster Presentation at the GeoGulf 2020 Conference organized as the 70th Annual Convention of the Gulf Coast Association of Geological Societies (GCAGS) and Gulf Coast Section of Society for Sedimentary Geology (GCSSEPM).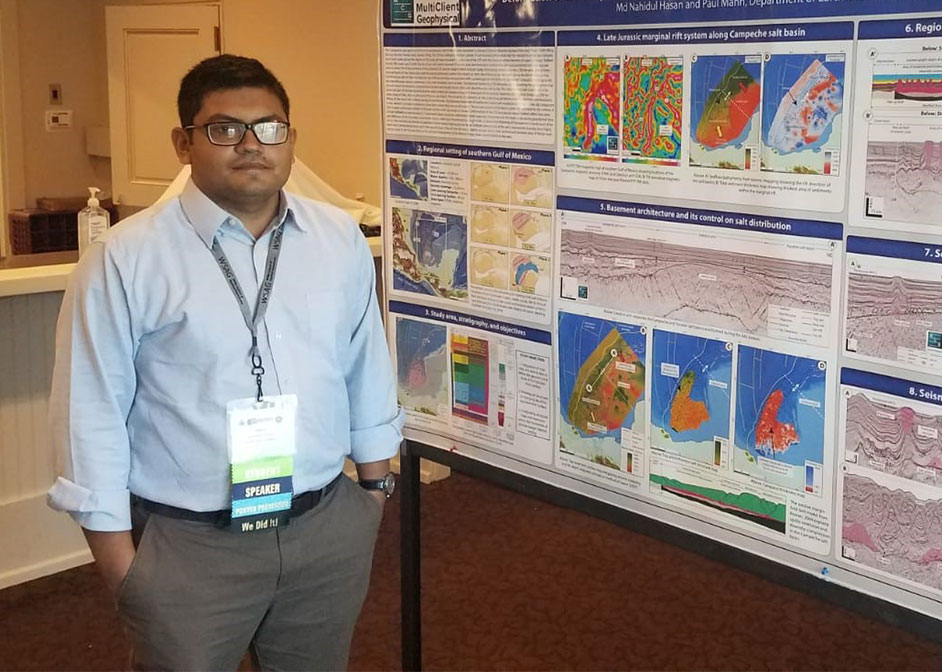 The conference, hosted by the Lafayette, Baton Rouge and New Orleans Geological Societies, took place in Lafayette, Louisiana, September 30 - October 2. The competition included all the posters presented at the meeting from industry professionals and students.
Hasan's poster was entitled, "Deformation of the Campeche Salt Province, Southeastern Gulf of Mexico, Interpreted within the Structural Framework of a Passive Margin Foldbelt." He has been working with Dr. Paul Mann and the Conjugate Basins, Tectonics and Hydrocarbons project since 2019.
For his poster, Hasan interpreted a regional, extensive grid of industry seismic data that covers the area of the Campeche salt basin in the southern Gulf of Mexico in order to explain the complex structural styles and Cenozoic tectonic evolution of the margin. The poster addressed academic questions concerning the structural evolution of the Campeche salt basin in addition to showing practical applications for petroleum exploration. Hasan is using this basic map data to develop a regional basin model to predict where hydrocarbons are present in the Campeche salt basin.
Hasan, who holds a 2019 M.S. in geology from Southern Illinois University Carbondale, also won second place for the best student poster presentations at the 2020 American Association of Petroleum Geologists Annual Convention and Exhibition.