Cristina Morales-Mojica, Computer Science Ph.D. Student, Aids in Development of Urban Air Mobility
Cristina Morales-Mojica describes herself as passionate, driven and stubborn, but most of all, as a planner.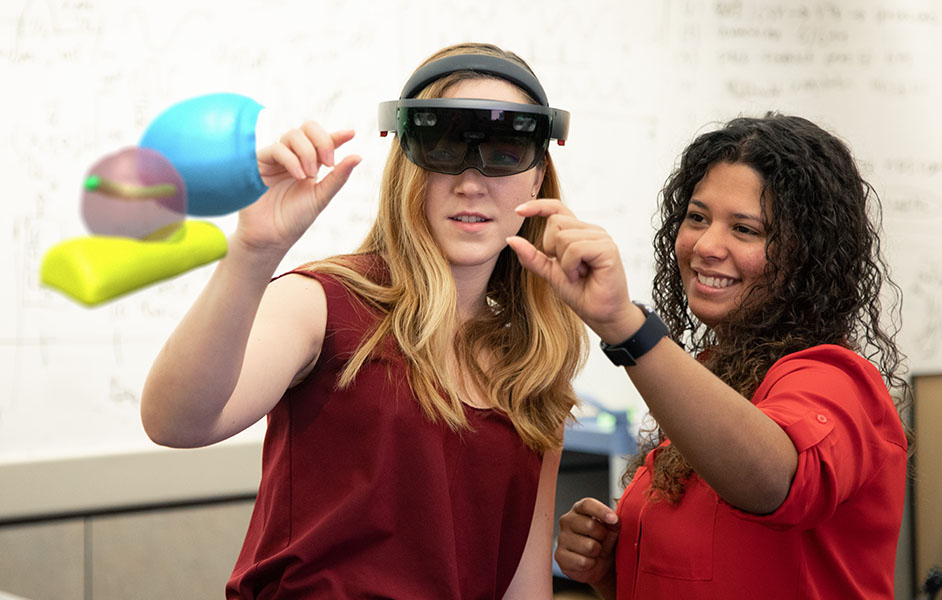 She began computer programming in the 10th grade and by the following year she knew she wanted to pursue a Ph.D. in computer science. When she started college, she had an academic plan in place and a list of internships to apply for, and she was fortunate to be accepted to one of them every summer.
Morales-Mojica went on to graduate from the University of Puerto Rico at Bayamón with magna cum laude honors and later enrolled as a computer science doctoral student at the University of Houston.
To add to her various accomplishments, she is now working through her second fully virtual and paid internship with NASA.
"I'm very grateful for the opportunity," Morales-Mojica said regarding both internships. "I did not see it coming at all."
She wants to research and develop technologies for professionals, such as physicians and aeronautic engineers. Her Ph.D. thesis at UH's College of Natural Sciences and Mathematics aims to develop an immersive virtual-reality system for surgeons. However, finding a job or internship that is research-heavy with an end user in mind is difficult to find.
Developing Urban Air Mobility
In her current internship, Morales-Mojica works with a team developing the next generation of urban air mobility in the form of autonomous and electric drones.
"Think about it like drone taxis," she said. "It's for people and for cargo. It's very futuristic."
The question now is how to include this sort of transportation in an urban
environment like New York City. That is where the team has been conducting simulations.
A leading challenge of the work is the collection of a large amount of flight data. The team tackles the challenge by using simulations. Engineers work on models to simulate realistic flight behavior, while AI experts create algorithms to generate data and train flight models for the drone.
Morales-Mojica's responsibility is to develop an interface for engineers and AI experts to understand each other's information – "how can we translate what the AI expert knows to a language that the engineering group can also understand?"
Evaluating Artificial Intelligence Ethics
Her previous NASA internship involved ethical AI quantification. Ethical concerns about AI applications exist, and as a result, multiple entities have developed guiding principles. This includes NASA, which published the NASA Framework for the Ethical Use of Artificial Intelligence.
"However, we do not see an established standard," Morales-Mojica said. "Without a standard, there is lax supervision for people who might take advantage of the public by using this tool unethically."
She assisted NASA by reviewing literature on ethical AI principles. Then, she tried to find a way to transform the high-level principles into quantifiable metrics. She used this knowledge to evaluate how ethical an AI model is during its development process.
Mentorship, Advice for Future Ph.D. Students
The young researcher recognizes she would not be where she is today without the help of a strong support system. Morales-Mojica thanks her Ph.D. advisor Nikolaos Tsekos, professor of computer science, for allowing her to be independent.
"He's open to doing what I think is best for myself," she said. "He's very supportive in that way. He's the best cheerleader. I'm so grateful to have him as an advisor."
She also thanks her NASA mentor, Newton H. Campbell, for both internships. "Dr. Campbell has been wonderful. He recommended me for this second project. That form of recognition by someone as knowledgeable and accomplished means the world to me"
To students interested in or pursuing a Ph.D., she has three pieces of advice: 1) Find an advisor you can communicate with. "Being able to tell your advisor hey, I'm going through something right now or having someone you can rely on, that is fantastic." 2) Make sure it is work you truly are interested in. 3) Take care of yourself. Sleep, eat and exercise. "If you don't take care of all those important aspects of your life, you're not going to be able to do the best that you can do."
- Rebeca Trejo, College of Natural Sciences and Mathematics