Award Recognizes Creation of Course Where Students Help Community Businesses, Non-Profits
Nouhad Rizk, instructional professor of computer science, is a recipient of the 2021 UH Teaching Excellence Award for Community Engagement. This is Rizk's second university-level award for teaching. In 2017, she received the UH Teaching Excellence Award for Instructional Faculty.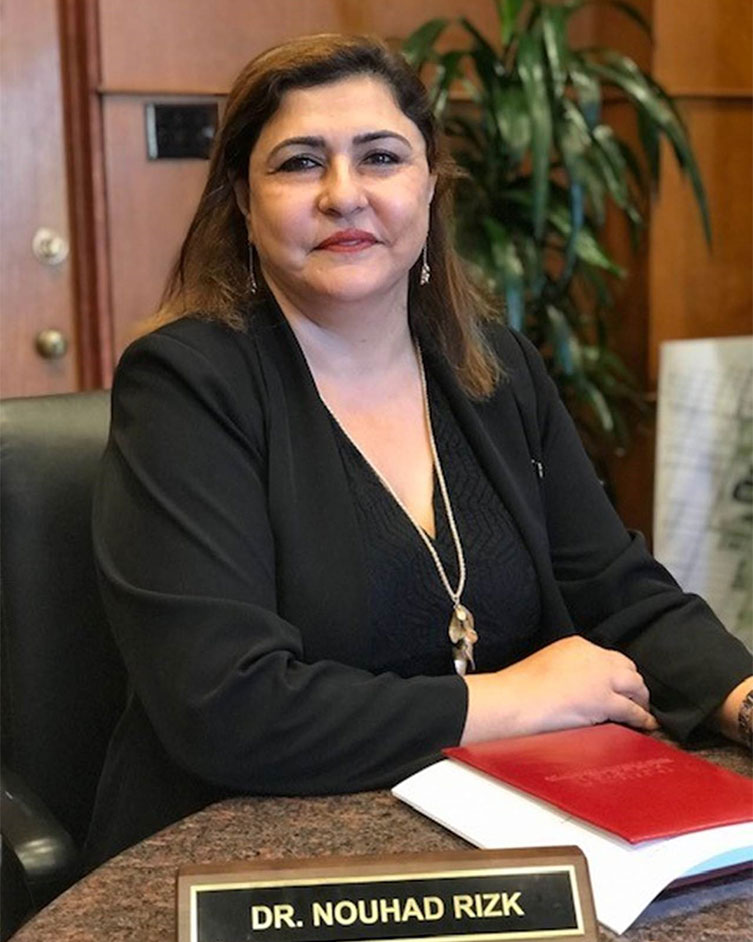 The Community Engagement Award recognizes faculty with a record of exceptional teaching and deep commitment to involve students in service-learning activities or community engagement projects.
"My purpose as an instructor is to create an atmosphere that fosters learning and facilitates student discovery," Rizk said. "Supporting and challenging them both inside and outside of the classroom is important for their success."
Rizk partnered with the C.T. Bauer College of Business' SURE™ Program to create COSC 4397 Special Topics in Computer Science – Consulting Clinic. The course takes students outside the classroom, placing them in the community to help Houston-area entrepreneurs and non-profits implement solutions to technological challenges they face. Examples of projects include, developing an information system for an organization's administrators, developing a website for an organization or school, developing classroom software for a school, implementing a network for an organization, implementing an urban technology project, and analyzing data at all levels.
"The genius of this [course] design was immediately apparent to me," wrote a student recommender. "It gives students the opportunity to pick from a number of different diverse projects and gain work experience which could possibly lead to a job offer, all while simultaneously providing community non-profits as well as small, up and coming entrepreneurs a cost-effective method to have their problems solved."
Rizk joined the University in 2007 as an instructional assistant professor after earning her doctorate from Leicester University in the United Kingdom. In addition to the consulting clinic, she teaches introductory programming, data structures, and data science courses. Rizk is actively involved in student development and success serving as the department's director of undergraduate studies, faculty advisor to several student organizations, and primary organizer of student programming competitions.
"Students need good role models, guidelines to follow, and kudos for kindness," wrote another student recommender. "Dr. Rizk herself is a model. She instilled in me a sense of confidence for my own work and abilities and showed me that if I work hard and try harder, I will persevere and eventually succeed. She truly cares and tried to help her students grow as a person and impact their lives in a positive way."
"I am pleased, honored, and humbled to accept this award and to join past recipients who I have long admired and respected," Rizk said.
Rizk will be formally honored during the virtual 2021 Faculty Excellence Awards celebration on May 7, 2021. A full list of current and previous awardees is available online.
- Matthew Pariyothorn, Department of Computer Science