Two UH Air Force ROTC Cadets Majoring in Computer Science and Chemistry First to Enter from Detachment 003
Two University of Houston Air Force ROTC cadets are marching toward Cougar history, on a mission to become the first members of Detachment 003 to enter directly into the United States Space Force (USSF). Lieutenants Christopher Williams and Mitchell Montalvo, who are students in the College of Natural Sciences and Mathematics, were competitively selected to serve in the newest branch of the U.S. Armed Forces.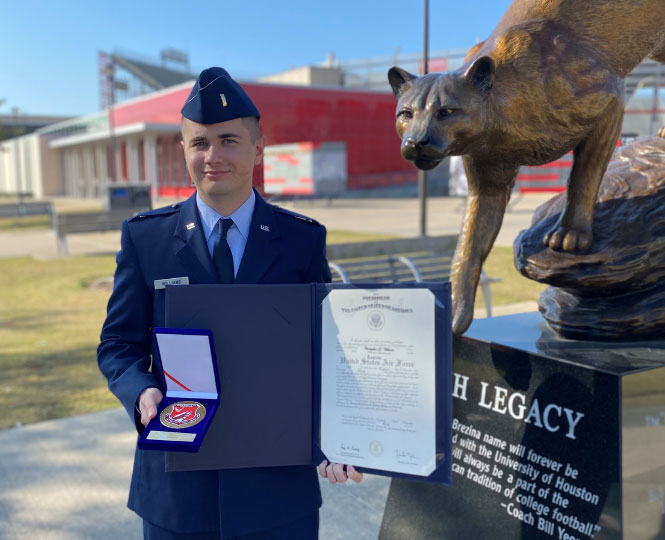 Williams, who graduated last month with a Bachelor of Science in chemistry, will direct and oversee space surveillance, assist third party companies with launches, monitor space warnings as well as satellite command and control. It's an out-of-this-world opportunity for The Woodlands native, who originally wanted to be a chemist in the Air Force.
"During my time in the Air Force ROTC program, I did an internship at NASA and that's when I shifted by focus to space operations," Williams shared. "I definitely think this is the right fit for me."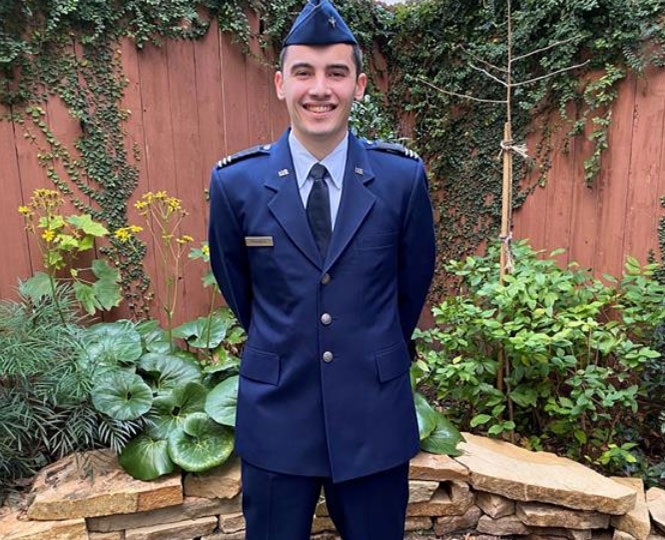 The stars also aligned for Montalvo, who was on track to follow in the footsteps of his father, brother and sister to join the Air Force. But Montalvo found the idea of serving in the USSF appealing because of the impact he can make in a new military organization.
"I want to create a culture that's able to grow the young branch and keep a positive attitude towards doing the best for our country," said Montalvo, who will be assigned to various jobs such as missile detection, satellite command and control or examining orbital debris.
Established in December 2019 within the Department of the Air Force, the U.S. Space Force's mission is to organize, train, recruit and equip space forces in order to protect U.S. and allied interests in space and to provide space capabilities to the joint forces. General John W. Raymond, a four-star general known as the Chief of Space Operations, serves as the senior military member of the USSF.
"This is an incredible milestone for the detachment and for UH. The fact that we have two cadets going in, is a testament to the high caliber cadets we have here," said Lt. Col. Matt Manning, commander and professor of Air Force Sciences, Air Force ROTC, Detachment 003. "I think it says a lot when your cadets come out to be part of the initial officers for a new military force."
While Montalvo and Williams are thrilled to explore this new horizon, it will take several months before they enter active duty because of the COVID-19 pandemic. In the meantime, Williams plans to work at UH as a teaching assistant in a chemistry lab and learn how to speak Danish for fun (his mother's family is from Denmark).
Montalvo plans to complete one more semester at UH before graduating with a computer science degree. He also intends to continue running Cougar Cadets, a volunteer organization he founded at UH that shows his commitment to serving the community.
When the men do get their orders, they will reunite at Vandenberg Air Force Base in California to begin basic training as space operations officers.
- Sara Tubbs, University Media Relations