The alumni of the University of Houston travel far and wide after graduation. Students often find themselves working across the globe. One of these alumni is Nikhil Navkar, a 2013 Ph.D. graduate in computer science, who now works as an Academic Research Scientist at Hamad Medical Corporation in Doha, Qatar.
Human Computer Interaction in Healthcare
Navkar's doctoral research focused on human computer interfacing for surgical systems. Prior to the shift toward healthcare, his initial research interests were much broader, in general computer graphics.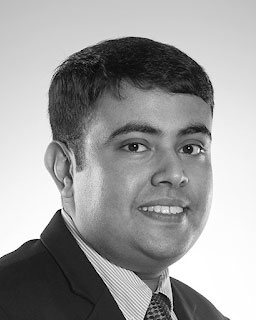 "When I joined UH, my advisor, Prof. Zhigang Deng, encouraged me to take some relevant courses and work on research problems in the application of computer graphics to the health domain," Navkar said. "It was while working on these projects along with Prof. Nikolaos V. Tsekos, who later became my co-advisor, I grew an interest in this field."
Houston is home to the Texas Medical Center, a nationally recognized institution located near the University. While at UH, Navkar was able to work in the Texas Medical Center at Houston Methodist Hospital on a collaborative project which helped him get real-world experience in the health industry.
"It was a wonderful experience as I witnessed research addressing real-world problems," Navkar said. "This was a stepping stone in my career path. It enriched my experience and prepared me for my future jobs in this direction. Since then, I have been closely working with hospitals and clinicians."
Visual Force-Feedback Guidance Inside Beating Heart
"My dissertation research focused on visual force-feedback interfacing for image-guided telemanipulated robotic surgical systems," Navkar said. "I proposed an approach for intraoperative integration of real-time MRI with the telemanipulated surgical setup and on-the-fly processing of the imaging data. This integration provided both real-time visualization and force-feedback-based guidance to the operator. The guidance assisted operators in maneuvering an interventional tool safely inside a dynamic environment, such as a beating heart."
Following graduation from the Ph.D. program, Navkar began working at Qatar Robotic Surgery Center as a Research Executive. His work revolved around medical robotics research. His current work at the Hamad Medical Corporation has similar themes, focusing more on patient care.
"My job focuses on innovation of new technologies that solves unmet surgical needs and brings impact to patient care," Navkar said. "This usually involves initiation, planning, and execution of multidisciplinary R&D projects across engineering and clinical teams."
Navkar's research interests include human-computer-interaction for medical devices, computer simulations for preoperative planning and training, and algorithms for image-guided robotic interventions.
"In my career as a researcher in medical technologies, I have the opportunity to work with a great team of scientists and clinicians and am able to innovate and develop solutions," Navkar said.
- Joanne Chavali, Department of Computer Science