Recognition at Top Conference in Data Visualization Field
Dr. Pavel Govyadinov, who completed his Ph.D. in Computer Science from the University of Houston in Summer 2019, received honorable mention for a short paper presented at the 2019 IEEE Visualization Conference in Vancouver, BC, Canada. This is recognized as the top conference in the field of data visualization.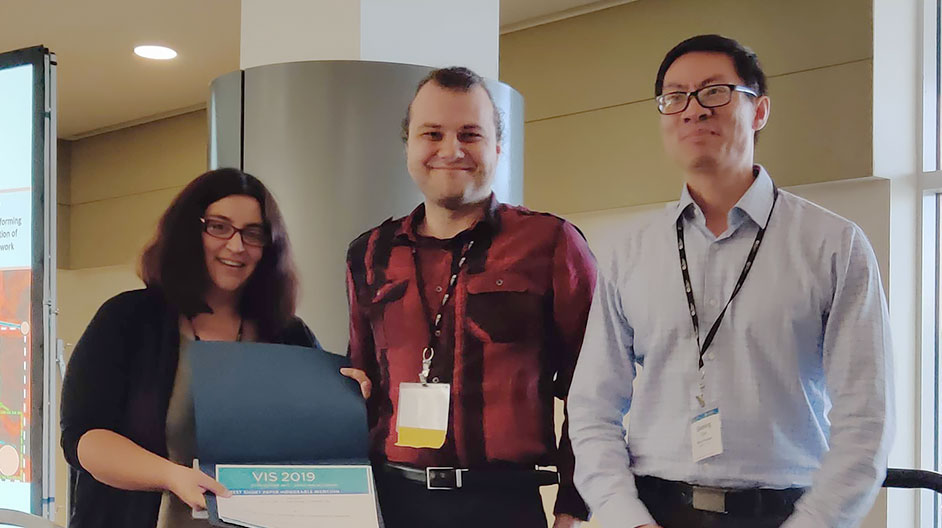 The short paper, titled "Graph-assisted Visualization of Microvascular Networks," presents a bio-modal visualization framework that leverages graph-based and geometry-based techniques to achieve an interactive 3D visualization of microvascular networks. The framework demonstrates how the combination of geometric and topological features can facilitate our understanding of complex microvascular networks and enhance our capability of comparing different networks for the study of the disease progression and the effectiveness of treatment.
The co-authors of the paper include Govyadinov's doctoral advisor, Dr. Guoning Chen, associate professor of computer science, co-advisor Dr. David Mayerich, assistant professor of electrical and computer engineering, as well as colleagues from the College of Pharmacy, all from the University of Houston.
"Our team is working on an expanded version of this research which tackles the challenges of creating graph layout algorithms specific to this kind of data," notes Govyadinov. "We are also exploring the capacities of VR technologies for a new kind of interactive visualization."
View a narrated video preview of the presentation.
- Matthew Pariyothorn, Department of Computer Science