Twitter Academy Offers Internships for Second-Year Students
Cash DeLeon, a senior computer science major, interned with social media company Twitter in San Francisco through Twitter Academy, an internship program specifically geared toward second-year students during the summer between his sophomore and junior year. He returned this past summer as a rising senior to continue working on the security aspect of the job.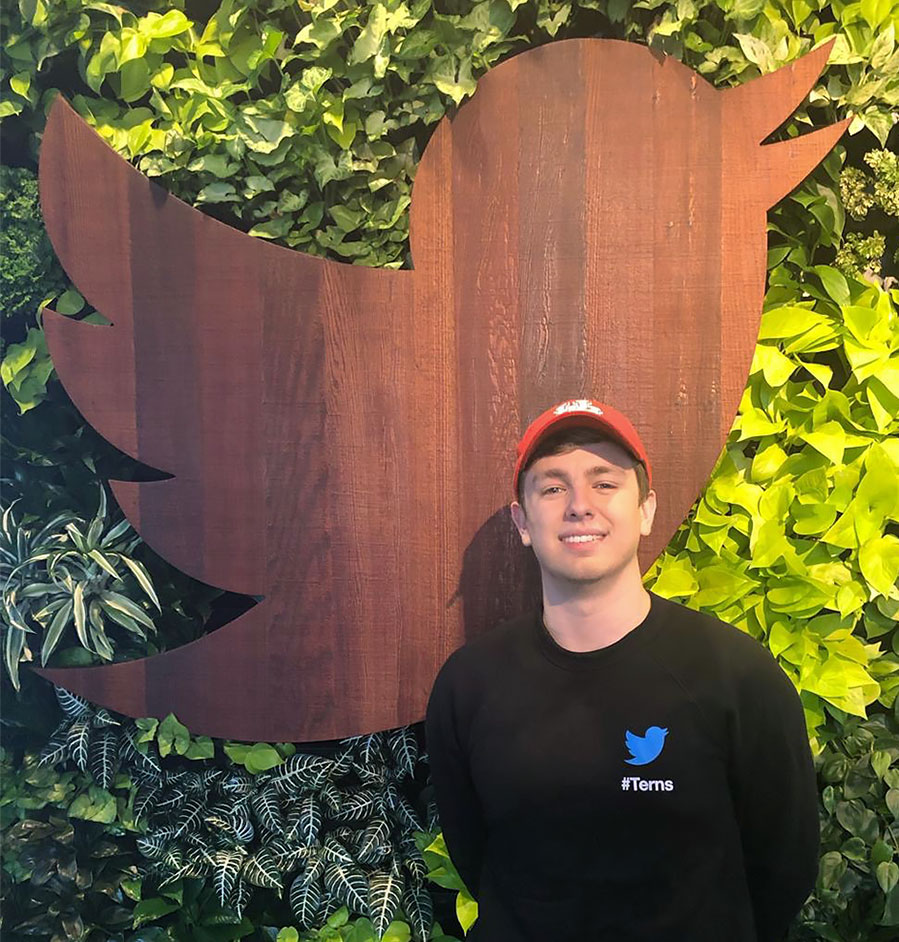 DeLeon started working in 2018 with the product safety team. A social media company as big as Twitter requires massive amounts of security measures that not only ensure a safe experience on the platform but also deter spam accounts as much as possible. The first summer, he helped on a spam reviewal app, making the view on it tabular. When DeLeon returned as a rising senior the following summer, he started working with a team to keep abusive content off Twitter.
"During my most recent internship, I worked on this really big rule engine," DeLeon said. "It basically listens for every single event on the Twitter platform. Then, data scientists and analysts are able to write certain rules to catch spammy or abusive patterns."
At a company giant like Twitter, it could be easy to feel overwhelmed very quickly, but according to DeLeon, the senior employees always work to make interns feel comfortable and help them learn in their internships. The company atmosphere is also relaxed, like most Silicon Valley corporations, which allows for less stress in both interns and full-time professionals.
"Everyone there is really helpful," DeLeon said. "They understood that you were an intern and everyone else is in the industry for a while already. When they have interns, they make a conscious decision to allocate a certain part of their day to helping the intern. You never feel scared to ask questions."
Since the program is designed for second-year students, the managers teach the interns as they are working since completed coursework of second-year students is less advanced than the assignments given to them.
"When I interviewed I hadn't finished my data structures class yet," DeLeon said. "I hadn't taken an algorithms class either, so the standards for second-year internships are a bit lower."
Companies are usually wary of hiring second-year students as interns for this reason - their subject knowledge is generally not enough for a workplace without extra help. Twitter Academy, however, is designed specifically for sophomores, so they can get acclimated to a real office setting.
Since acceptance into the academy is based on only one round of interviews in San Francisco after the initial resume check, communication skills are integral for this kind of position.
"In high school I was a pretty quiet person, now I've kind of grown out of that," DeLeon said. "That's partly because of the university. Just talking to a lot of different people and having to participate in class helped me a lot. That was one of the biggest factors in getting my first internship - my communication skills."
His career goals are succinct - to become a software engineer first, then move into a managerial role eventually. Either way, the internship experience he received has lasting effects not only on his resume but the exposure will help him to adjust from an academic to a work setting.
DeLeon plans to graduate in Spring 2020. "Luckily, my first internship was at a pretty notable company, so I feel pretty good about my odds for my future," DeLeon said. "I'm grateful for landing a position like that so early."
- Joanne Chavali, Department of Computer Science