Award Honors Outstanding Teaching, Creativity and Subject Mastery
Dr. Chang Yun received the 2015-2016 University of Houston Teaching Excellence Award for Instructional Faculty, one of the highest distinctions bestowed by the University. Yun earned this distinction through his extraordinary level of subject mastery and scholarship, teaching effectiveness, and creativity and personal values that benefit students.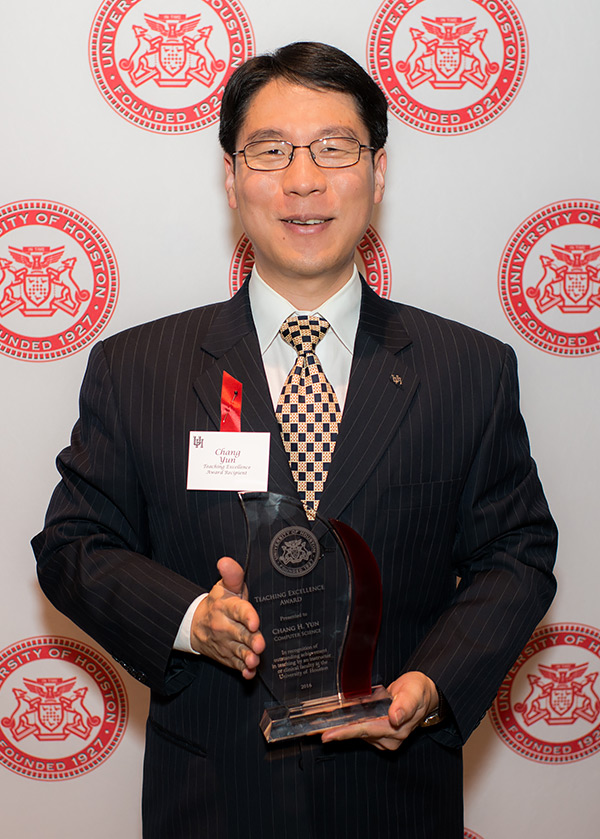 "Dr. Yun developed curriculum for multiple courses, including Interactive Game Development and Game Art and Animation. All of his classes are project-based, which move away from the boundaries of traditional classroom setting. A unique feature of Dr. Yun's approach is that he emphasizes the overall game development process including programming, art, music, writing and business/entrepreneurship," stated Dan E. Wells, dean of the College of Natural Sciences and Mathematics, in a letter of support for Yun.
Yun's unique teaching pedagogy inspires and significantly improves his students' learning. Students in his classes spend extra hours on their assignments. Through Yun, students experience a motivating and inspiring environment where they can unleash their creative abilities and enthusiasm for learning.
"Throughout the past several years, Dr. Chang has demonstrated his endless dedication to helping his students succeed in every way possible," said Sabah Akbani, UH alumnus, in a letter of support for Yun.
Yun invests additional hours to interact, mentor and support the students during the development of their game projects. Since 2009, Yun established a sustainable gaming program. The UH gaming program is now considered as the best program in the Greater Houston area and one of top five programs in Texas.
Yun has successfully mentored over 20 teams into the Microsoft Imagine Cup finals. The Imagine Cup is a technology competition hosted by Microsoft which draws tens of thousands of submissions from around the world in an effort to create software. While no university other than UH succeeded in advancing to the U.S. final for two consecutive years, UH has produced U.S. finalists for six consecutive years without fail. In the 2013 U.S. competition alone, two UH gaming teams advanced as national finalists, while seven UH gaming teams advanced as national semifinalists. Further, UH is the only school that produced a first place winner twice in both 2011 and 2014.
"As a student in Dr. Chang's Game Development course in early 2010, I knew that I was involving myself with a course that had a history of success, most notably through various awards received in gaming competitions that his students were encouraged to participate in," said Paul DeCarlo in a letter of support for Yun.
"Dr. Chang Yun is one of the most unique instructors that I have had the pleasure of working with due to his selflessness; he is always thinking and working on what is beneficial for his students and everyone around him," said Mohammed Alshair, a Ph.D. student in Computer Science.
Yun also provides guidance as a Faculty Advisor to CougarCS, the Department of Computer Science's largest and most active student organization. CougarCS focuses on building a professional and academic network among members based on an interest in Computer Science. CougarCS hosts one of the largest Hackathons in Texas, as well as offering workshops and networking events.
Yun's UH Teaching Excellence Award was announced at the 2016 University of Houston Faculty Excellence Awards Dinner. Additional information is available online, as well as pictures of the event.