UH Moment: Recommended Reading

Thamar Solorio Interviewed for UH Moment Airing on KUHF Radio
What is your favorite book? What if an app could recommend a book to you based on how your favorites make you feel?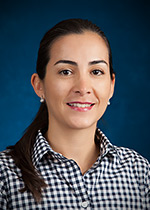 Listen to Thamar Solorio's Interview"It's a difficult problem and has not been done before," said Thamar Solorio, associate professor of computer science in the College of Natural Sciences and Mathematics. "There's no work on trying to predict – based on content – what the reader is going to feel from reading a book, from the reading experience."
Solorio was approached to develop the technology by a startup company, whose CEO is a writer. The research is called Stylistic Text Analysis.
"What we're trying to achieve now is to design new computational methods that can look at a piece of text and not only analyze the content in terms of sentence structure and writing density, but map those sets of values to what the reader will feel. For example, 'I want to feel inspired or I want to feel lifted,'" she said.
The algorithm matches you with books based on how your favorites make you feel, some selections you may not have considered before. Solorio says part of the challenge is creating technology that learns the language that describes our reading experience, which, she likens to the language of wine: fruity, dry, sweet, oaky.
"The ultimate product is an app that a user can log in and say 'I'm looking for my next reading experience, I'm looking for laughter, a thriller that I can't put away, something light,'" Solorio said.
The technology will help writers connect with readers and vice versa, and perhaps allow writers to not to be as reliant on publishers. It one day also may serve as the role of an editor for writers.
"All these different advances in computer science and we can dream of doing things like this. This is like the revolution that we're trying to create," Solorio said.
Recommended Reading is part of what's happening at the University of Houston.
- Marisa Ramirez, University Media Relations