NSF Grant to Fund Development of New Book Recommendation Technology

Will Use Natural Language Processing to Predict Reading Experience
Imagine being able to discover new books that re-capture the same feeling you get while reading your favorite books. Award winning novelist Holly Payne, CEO of SkywriterRX, reached out to Thamar Solorio, associate professor of computer science at the University of Houston, to see if this was possible.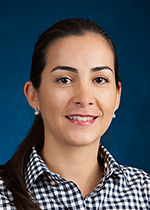 Solorio's answer?
"Absolutely," she said, making the further suggestion that she and Payne work together on a proposal to the National Science Foundation to develop a new book recommendation method that aims to do just that.
In December 2015, Payne and Solorio were awarded a one-year, $224,111 Small Business Technology Transfer Phase I grant to develop a new book recommendation method through a mobile app called Booxby.
"We are proposing to design methods that will extract features from a book and make suggestions for users as to what to read next, taking into account the user's desired reading experience," said Solorio, who joined the College of Natural Sciences and Mathematics in 2014.
Currently, discovering new books is a hit-or-miss process based on a mixture of recommendations and reviews, lists and word of mouth. These recommendations are based on categories such as genre, author, or books bought by customers with similar purchasing habits. However, as many readers know, sometimes our reasons for liking a book are both surprising and hard to describe.
Instead of the current system, the research team hopes to identify some of the more elusive features about a book that make a reader want to keep reading. For this, Solorio will be using her expertise in natural language processing, which is a branch of computer science that deals with the interface between human language and computers, and her background in stylistic analysis in text. She'll design computational models to predict how a particular book might make a reader feel.
"We're trying to understand what in a book will create the sensation that a reader is looking for," Solorio said. "We want to create a language to describe books and to help readers communicate what they are looking for in their next reading experience."
Payne and Solorio's end goal is to generate a method of recommending books that will pair readers with books that they'll end up loving. This NSF grant is an early stage grant that offers one year of funding, with the potential to be followed by a longer development grant.
- Rachel Fairbank, College of Natural Sciences and Mathematics