UH Named Center of Excellence for Work on Cyber Defense

Designation by NSA, DHS Applies to Research, Education Programs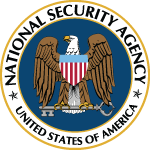 The University of Houston's educational and research programs in cybersecurity and cyber defense have been recognized by the National Security Agency and the Department of Homeland Security.
UH first received the "Center of Academic Excellence" designation for its education programs in 2007, after the creation of the Center for Information Security Research and Education. This is the first time it has received the research designation.
UH is one of 28 universities in the United States, including three in Texas, with the dual designation.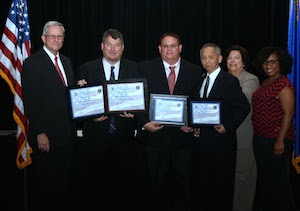 UH was recently designated as a National Center of Academic Excellence in Cyber Defense for both cybersecurity education and research. At the Designation Ceremony (from left), Leonard Reinsfelder, Deputy Director for Education and Training, NSA; Arthur Conklin, Associate Professor, UH College of Technology; T. Randall Lee, Associate Dean for Research, UH College of Natural Sciences and Mathematics; Stephen Huang, UH Professor of Computer Science; Lynne Clark, Chief of the National Information Assurance Education and Training Program, NSA; and Jacqueline Sullivan, Acting Program Lead for the DHS National Cybersecurity Training and Education Program.The recognition, good for six years, offers a stamp of approval for education and research into a rapidly changing field. Cybersecurity issues, from crime to espionage, have gained attention as society has grown more dependent on computers and the Internet. The work involves faculty from the College of Natural Sciences and Mathematics' Department of Computer Science and the College of Technology.
Stephen Huang, professor of computer science, said the research designation reflects the strength of UH research in cybersecurity and related areas, led by faculty in the computer science department.
"Designation as an NSA Center of Excellence for Research is a prerequisite for several federal funding opportunities, including National Science Foundation and Department of Defense scholarships and capacity building grants," he said. "These additional opportunities will provide a boost to our cybersecurity research and education."
The research review covered the Ph.D. curriculum, the number of doctoral degrees awarded and both the research publications and grant awards for faculty working in the cybersecurity field.
The computer science department emphasizes research that addresses contemporary societal problems, said department chairman Jaspal Subhlok, noting that cybersecurity is one of the nation's biggest challenges.
"Computer science researchers, with expertise spanning cryptography, data analytics, biometrics, image processing and natural language processing, are collaborating to address the big challenge of cybersecurity," Subhlok said. "They are developing innovative solutions to detect intruders into critical infrastructures, prevent phishing attacks, fight bioterrorists and authenticate authorship of documents."
"It's a scarier world today than it's ever been, because hackers have figured out how to monetize cyber-crime," said Arthur Conklin, associate professor of Information and Logistics Technology and director of the Center for Information Security Research and Education.
The education programs covered by the designation also include a two-year, professional master's degree program in information systems security, offered by the College of Technology. Ray Cline, chairman of the Information Logistics and Technology department, said the program has grown from eight students in 2007 to more than 50 now.
The master's degree is in high demand from employers – "For qualified personnel, it's zero percent unemployment," Cline said – but completing it isn't easy. Cline said that in addition to technical skills, the curriculum focuses on ethical standards required for the field. Students are required to sign a pledge every semester agreeing to the standards.
"These programs offer Houston-area companies world-class opportunities in cybersecurity education," Conklin said. "Our graduates go on to work in the security operations of some of the world's largest consulting firms, banks, energy companies and software developers."
- Jeannie Kever, University Media Relations