Thamar Solorio Receives Emerging Leader Award

Recognition from the Anita Borg Institute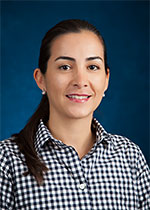 Thamar Solorio, an associate professor of computer science at the University of Houston, is the recipient of the 2014 Denice Denton Emerging Leader ABIE Award from The Anita Borg Institute (ABI), a non-profit organization focused on advancing women in computing.
The Denice Denton Emerging Leader ABIE Award recognizes a junior faculty member for high-quality research and significant positive impact on diversity. It is underwritten by Microsoft.
Each year, the ABIE Awards give the technology community the opportunity to honor female leaders in the categories of technical leadership, social impact, international change agent, innovative teaching practices, and faculty member emerging leadership.
The organization will celebrate the ABIE Award winners at the 2014 Grace Hopper Celebration of Women in Computing, to be held in Phoenix on October 8-10.
An accomplished researcher, Solorio's research focuses on authorship analysis, child language assessment from narratives, mixed-language processing in social media, and information extraction from clinical records and patient generated data. She joined the UH Department of Computer Science this fall.
Solorio is also an advocate for minorities in STEM fields. She has led and contributed to a number of initiatives and outreach activities to increase the numbers of females and Hispanic students entering and completing a degree in computer science. She is also committed to increasing the collaboration ties among researchers across the Americas, and in particular, to forging a stronger natural language processing community in Latin America.
"We are very fortunate that Dr. Solorio chose to join the Department of Computer Science at University of Houston. Her research is of high quality with significant social impact, and she has led numerous initiatives to support women and minorities in computing, said Jaspal Subhlok, chair of the computer science department. "She is undoubtedly an emerging leader in the field with an exemplary commitment to important societal challenges in the context of computing."
While an assistant professor at University of Alabama at Birmingham, she was working on redesigning a freshman‐level computer science course with the goal of improving the learning experience of students with different backgrounds as well as from minority groups.
"The ABIE Awards highlight the inspiring stories and extraordinary contributions of women in technology at the largest gathering of technical women in the world," said Telle Whitney, ABI's president and CEO. "Women in technology are making great strides in their research and their impact in their respective fields. We are proud to celebrate these women and acknowledge their achievements at our Grace Hopper Celebration this year."
The winners are nominated by their peers, and chosen by a panel of fellow technologists and past ABIE Award winners based on their extraordinary commitment to excellence, progress and creative problem-solving.
- Excerpted from materials prepared by the Anita Borg Institute