UNlimited Plans: Randy Hannemann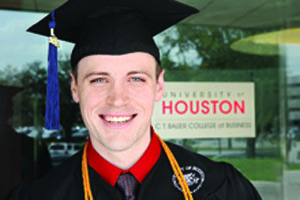 by Colleen Seitz

"The real importance is mission, to make a difference," says Honors alumnus Randy Hannemann of his entrepreneurial endeavors. Graduate of the Wolff Center for Entrepreneurship, Randy cites passion and mission as key to business success and personal fulfillment. 
Randy has made some formidable achievements throughout his college career, the most recognized being a highly successful semester as a member of the Wolff Center UNlimiters team. Randy and his team presented a business plan for UNlimiters, an online marketplace to help people with disabilities find useful everyday products. The team won first place in both the University of Nebraska-Lincoln Center for Entrepreneurship's 25th Annual Innovation Competition and the Richards Barrentine Values and Venture Business Plan Competition at the Texas Christian University Neely School of Business. The team also took second place in Chapman University's California Dreamin' competition, winning a total of $44,000 and besting both undergraduate and graduate student teams from universities across the country. "We could show that our plan makes business sense," Randy said of UNlimiters, "and it also grabs you emotionally," stressing the importance of business viability and having a positive impact in any entrepreneurial venture.
In addition to his success as part of the UNlimiters team, Randy also won first place in the 2012 CougarPitch competition. The annual competition challenges University of Houston students, faculty, and staff to present a business plan that addresses a perceived need in the market in two minutes, followed by a five-minute Q&A session. Randy's pitch for a firm called The Hero's Mentor earned him first place and a $1,000 prize. He is most proud, however, of his organization's mission. "The Hero's Mentor connects returning soldiers, sailors, airmen, and marines with mentors who are themselves veterans and understand the pain felt during the transition period." 
The Hero's Mentor was born out of Randy's personal experiences transitioning from military to civilian life. "When I first came out of the military, I took the first $9 an hour job I could find," said Randy. Like numerous other veterans, Randy was concerned about unemployment. With the help of several people, including his mentors at the Wolff Center for Entrepreneurship, and through his own hard work and determination, Randy has discovered new opportunities available for someone with his unique skill set. He wants to help fellow veterans realize their potential as well. 
"Eight hundred and fifty thousand American veterans are unemployed in this country," said Randy. "Eighty percent of those who have jobs are employed in positions that underutilize their capabilities. I thought, 'Let's connect all of the guys getting out of the military with a mentor — help them see the light at the end of the tunnel.'"
A Wolff Center scholar and PURS recipient, Randy has drawn from numerous resources, mentors, and life experiences to achieve his goals. Currently a Staff Sergeant in the active reserves, Randy credits his time in the military for his versatility and discipline. "You get tasked with all sorts of different things in the military. Every day was something new and different. I chose the business field because it's versatile. The Wolff Center was an obvious choice for me for both geographic reasons and because, at the time, it was the second-ranked program in the country." (The University of Houston's Cyvia and Melvyn Wolff Center is now the top-ranked undergraduate entrepreneurship program in the country.)
Of his choice of major, Randy said, "Entrepreneurship is a way to wear so many hats. You have to be really upbeat to be successful. You're going to take some rides." Throughout his experience in the Honors College and the Wolff Center, Randy has enjoyed the close relationships he has built with professors. Randy specifically cites Associate Director of the Wolff Center Ken Jones, Professor Dave Cook, and his official Wolff Center mentor Warren Barhorst. "I wish everyone had professors like these. I like that I could approach them about the real-life applications of what we were learning."
Randy hopes to nurture and expand his business, The Hero's Mentor. "Even if I'm unsure about the financial future, I know that I'm doing what I love, and I'll find a way to make money. My mentor (Barhorst) helped me realize this was my passion. I want to change the world, and I won't be happy unless I do that."