Former Co-Chairman & CEO of Hilton Hotels Corporation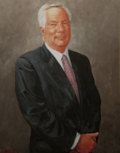 Stephen F. Bollenbach joined the Hilton Hotels Corporation in February 1996 as CEO, a position he held until his retirement in 2007. In May 2004, he was named co-chairman. During his tenure with Hilton Hotels, Bollenbach oversaw a complete transformation of the company, including developing new sales and marketing alliances, acquiring Bally Entertainment and amassing $1.5 billion in hotel real estate.

Under Bollenbach's leadership at the Hilton Hotels Corporation, the company developed a marketing alliance between Hilton Hotels and Hilton International (owner of the Hilton brand outside the United States), which reunited the brands for the first time in 34 years. With the acquisition of Bally Entertainment, Hilton also became the world's largest gaming company—Hilton's gaming arm later became Caesars Entertainment Corporation. Hilton also acquired Promus Hotel Corporation, adding 1,400 hotels and several well-known hospitality brands, including Doubletree, Embassy Suites Hotels, Hampton and Homewood Suites by Hilton to the company's portfolio of properties.

At the time of Bollenbach's 2005 induction into the Hospitality Industry Hall of Honor, the company had grown to encompass more than 2,100 hotels and 330,000 rooms under different brands.

Before joining Hilton, Bollenbach served as CEO of the Trump Organization, CEO of the Host Marriott Corporation, an organization he helped create in 1993 by leading an innovative restructuring of the Marriott Corporation; and senior executive vice president and chief financial officer of The Walt Disney Company. While at Disney, Bollenbach was instrumental in the $19 billion acquisition of Capital Cities/ABC—at the time, the second-largest acquisition in U.S. business history.