Chairman Emeritus of Barshop & Oles Company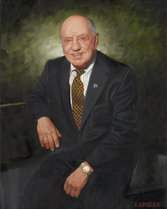 Sam Barshop's roots run deep in Texas. Born in Waco on Sept. 11, 1929, he attended high school at the Texas Military Institute. He earned a BBA in International Trade from The University of Texas at Austin and attended St. Mary's Law School in San Antonio before serving as a Second Lieutenant in the United States Air Force from 1951-1954.
After his time in the military, Barshop returned to Texas and took an interest in his family's real-estate business. With the help of his brother, Philip, Barshop started building and operating Ramada Inns on family-owned property. Increasingly involved in the lodging business, the brothers attempted to purchase the Rodeway Inn brand. When that bid failed, they decided to open up their own hotels— La Quinta—in San Antonio in 1968, just in time for the HemisFair. One was located downtown near the HemisFair and the other at the San Antonio Airport.
The original La Quintas were very successful, and from there the Barshop brothers grew their brand, creating the concept of the "limited-service" hotel to cater to frequent business travelers. La Quinta properties kept prices low by forgoing amenities like bellboys, restaurants, room service and bars, focusing instead on offering spacious, clean, business-friendly rooms at reasonable rates.
With their sister, Doris Spector, as a silent partner, Sam and Philip Barshop took La Quinta public in 1974.
Philip left La Quinta three years later to focus on real estate, but Sam Barshop stayed on as chairman of the board, president and CEO, leading and expanding the La Quinta brand until his retirement in 1994. His hard work and commitment paid off in a big way—today, La Quinta operates and provides franchise services to more than 800 hotels in the U.S., Canada and Mexico.
In September of 1995, Barshop teamed with Barshop Enterprises of San Antonio and the C.P. Oles Company of Austin, merging their real-estate interests and forming a new firm, Barshop & Oles Company. He currently serves as chairman emeritus of that company, which primarily focuses on developing, acquiring and managing top quality neighborhood grocery-anchored and community shopping centers in Texas.
Sam Barshop's contributions—both to the hospitality industry and his extensive philanthropic endeavors—have not gone unrecognized. Most recently, in 2012, he received the Ernst & Young Entrepreneur of the Year Lifetime Achievement Award. In 2004, he was honored with the hotel industry's Lifetime Achievement Award at the Americas Lodging Industry Summit. In 2003, he was inducted into the Texas Philanthropy Hall of Fame and became a San Antonio Business Hall of Fame Laureate.
Barshop has received numerous awards from UT-Austin, where he's served as a regent and endowed numerous chairs, professorships and scholarships. He's a recipient of the Ex-Student Association's Distinguished Alumni Award, the Distinguished Alumnus Award from the College of Business Administration, and has been inducted into the UT College of Business Administration Hall of Fame. At various times in his accomplished career, Barshop has also served as a director of Southwest Airlines, chairman of the Austin-San Antonio Corridor Council and chairman of the San Antonio Free Trade Alliance. He's a former member of the board of trustees for The University of Incarnate Word in San Antonio and until 2005 held the Roy F. and Joann Cole Mitte Chair in Entrepreneurship Studies at Texas State University. Barshop still serves as a trustee and member of the advisory council for the San Antonio Academy, and in 2005, he and his wife were honored as key benefactors in the establishment of the Sam and Ann Barshop Institute for Longevity and Aging Studies at Texas Research Park.