Co-founders of STR (Smith Travel Research, Inc.)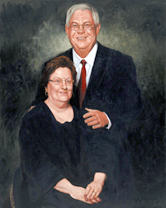 More than 25 years ago, Randy Smith, and his wife, Carolyn, had the idea of creating a database that housed the names of all hotel properties in the United States. This concept evolved into the Hotel Census Database, which houses the information of more than 140,000 hotels worldwide— and growing. This database is what put STR (Smith Travel Research, Inc.) on the map.

Randy and Carolyn Smith co-founded STR, the global leader in hotel market data and performance benchmarking. Randy Smith currently serves as the company's chairman, and Carolyn Smith served as the chief operating officer for more than 20 years.

STR has established itself as an authority on hotel industry performance trends. The company tracks hotel occupancy, rate and revenue for more than 42,000 hotels worldwide through its STAR (Smith Travel Accommodations Report) report, which launched in January 1988. The STAR report has become "the source" of information for chains and management companies. In 2007, STR expanded its benchmarking efforts outside of North America with the creation of STR Global.

The Smiths' commitment to confidentiality and accuracy has set the industry standard since, as the story goes, they launched STR from the kitchen table of their home in 1985. Today, from its headquarters outside of Nashville, Tenn., the company gathers lodging industry supply, demand and performance data from hotels located in more than 160 countries. Their STAR report, which shows a hotel's operating performance relative to its competitive set, is never far from a hotel general manager's grasp. This scorecard gives GMs—as well as the property's owner—an instant snapshot of property performance.

Randy and Carolyn Smith's tireless efforts to develop products that enhance the hospitality industry have resulted in the STR family of companies that includes STR Global, RRC Associates, STR Analytics and HotelNewsNow.com. STR also created the Hotel Data Conferences, which are held annually in Nashville and London.

Prior to starting STR, Randy Smith was director of research for Laventhol & Horwath and has more than 25 years of experience in lodging industry research. He is the recipient of the 2011 Lodging Hospitality Magazine's Stephen W. Brener Silver Plate Award and was the 2010 recipient of the ALIS (American Lodging Investment Summit) Lifetime Achievement Award for his contribution to the lodging industry. He was also a 2007 inductee to the Florida State University College of Business Hall of Fame. As a member and past co-chairman of the Industry Real Estate Financing Advisory Council (IREFAC), he was also the 2002 recipient of the prestigious IREFAC C. Everett Johnson Award.

Randy Smith is vice-chair of the American Hotel & Lodging Foundation Funding Committee, and a charter member and former board member of the International Society of Hospitality Consultants (ISHC). He was the recipient of the 1996 Industry Pioneer Award of the ISHC for outstanding contribution to the lodging industry, and is a regular keynote speaker at the major industry conferences. Randy is also an avid fisherman.

As a co-founder of STR, Carolyn Smith played a pivotal role in the expansion of the company. Her attention to detail and foresight led to the development of key products, including the STAR report, Census, U.S. Hotel Review, the HOST (Hotel Operating Statistics) study and Trend report. Products such as these are what established STR as the leading authority on hotel industry performance trends and forecasts.

Carolyn earned a Bachelor of Science in Civil Engineering from Drexel University. Prior to co-founding STR, she worked for Allis-Chalmers as a civil engineer in York, Penn. In addition to contributing to the growth of STR, she has fulfilled another of her passions. In February 2003, she opened the Haus of Yarn in Nashville. Haus of Yarn is a full-service knit and crochet center with the most varied and comprehensive yarn selection in the region. The Haus of Yarn has become a favorite shopping spot for local knitters, as well as for many visitors to the Nashville area. The expert staff has more than 175 years of combined experience and the staffs' creations and pattern designs have been published in several industry books. They are renowned for their instructional knitting classes.

Randy and Carolyn Smith continue to reside in Nashville. Their son, Alex, recently graduated from the University of North Carolina-Chapel Hill and is now working as a research analyst at STR.