Chairman, CEO & President of Harrah's Entertainment, Inc.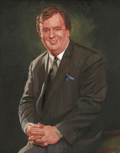 A former associate professor at the Harvard University Graduate School of Business Administration, Gary W. Loveman joined Harrah's, a Fortune 500 company, as chief operating officer in 1998, drawing on his extensive background in retail marketing and service management to develop and implement the gaming industry's most successful loyalty program, Total Rewards. Today, Total Rewards boasts more than 40 million customers and is largely responsible for the company's consistent same-store sales gains.

Since being named CEO in January 2003, Loveman has presided over a period of growth and profitability that culminated in Harrah's June 2005 acquisition of Caesars Entertainment, Inc. at $9.4 billion, the largest single transaction in the industry's history. In December 2006, Harrah's agreed to go private in a $29 billion transaction led by private equity firms Texas Pacific Group and Apollo. Harrah's performance has led to its inclusion in the Dow Jones Sustainability Index, a group of international companies noted for creating long-term shareholder value, for six consecutive years. It also earned Loveman the distinction of being recognized as the gaming and lodging industry's best CEO by Institutional Investor magazine for four consecutive years.

Loveman is the chairman of the American Gaming Association and an outside director of Coach, Inc. He also sits on the board of trustees at Joslin Diabetes Center in Boston and on the Trust Board at Children's Hospital Boston. He holds a bachelor's degree in economics from Wesleyan University and earned a doctorate in economics from the Massachusetts Institute of Technology, where he was an Alfred Sloan Doctoral Dissertation Fellow.