Co-Founder & Chairman of the Board of Outback Steakhouse, Inc.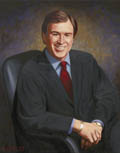 Chris Sullivan, one of the founders of Outback Steakhouse and currently chairman of the board, was a hard worker starting early in life. As the second oldest of seven children, Sullivan worked hard to earn his childhood spending money, mowing lawns, shoveling snow, maintaining a newspaper route, caddying, washing dishes and working as a camp counselor, to name a few jobs.

Born in Lake City, Florida, and raised in Detroit, Silver Spring, Maryland, and Butte, Montana, Sullivan put himself through his last two years of college at the University of Kentucky and then entered the management-training program for Steak and Ale Restaurants, founded by his mentor Norman Brinker. He earned his degree in business and economics in 1972 and started at Steak and Ale the same year, becoming general manager a year later. He rose through the organization and became the president of the Bennigan's chain in 1980.

Sullivan then followed Norman Brinker to Chili's restaurants in 1983 as a joint venture partner and franchisee. Sullivan, along with his partners, opened 17 restaurants in three years, then sold their interest in 1987 to Brinker International.

In March 1988, Sullivan, along with partners Bob Basham and Tim Gannon, opened the first Outback Steakhouse in Tampa, Florida. What began as a casual conversation about America's fascination with all things "down under" turned into an opportunity to create a restaurant that was different from the usual Western-themed steakhouse. As of 2010, there were more than 900 Outback Steakhouses worldwide. Outback also operates more than 300 Carrabba's Italian Grills, Fleming's Prime Steakhouse and Wine Bar, Roy's, Lee Roy Selmon's, Bonefish Grill, Cheeseburger in Paradise, Paul Lee's Chinese Kitchen and several other hospitality businesses.

Sullivan became the chairman and CEO of Outback, which became public in 1991, until 2005. At the time of Sullivan's 2006 induction into the Hospitality Hall of Honor, the company had grown to more than $4 billion in revenues and operated more than 1,200 restaurants in the United States and abroad. Sullivan continues to serve as chairman of the board of directors for OSI Restaurant Partners, LLC.

Sullivan has been generous in giving back to his community, and children and educational organizations are the focus of his charitable contributions. Along with his partners, Sullivan has been involved in building a company culture of "giving back." OSI Restaurant Partners, Inc. contributes millions of dollars annually to communities. Sullivan currently serves as chairman of the Flight 93 National Memorial Campaign and is a former chairman of the Florida Council of 100, the Committee of 100 and the Employment Policies Institute, and also serves on the board of directors for the Florida Council on Economic Education, the Lowry Park Zoological Endowment Foundation and the Kentucky Speedway. He also is on the chairman's board for Big Brothers Big Sisters of America and has served as vice chairman of Scripps Florida Funding Corporation.

He lives in Tampa, Florida, and has two children, Alex and Ashley.