Ph.D. in Spanish with a Concentration in Linguistics or Literature (FACE-TO-FACE)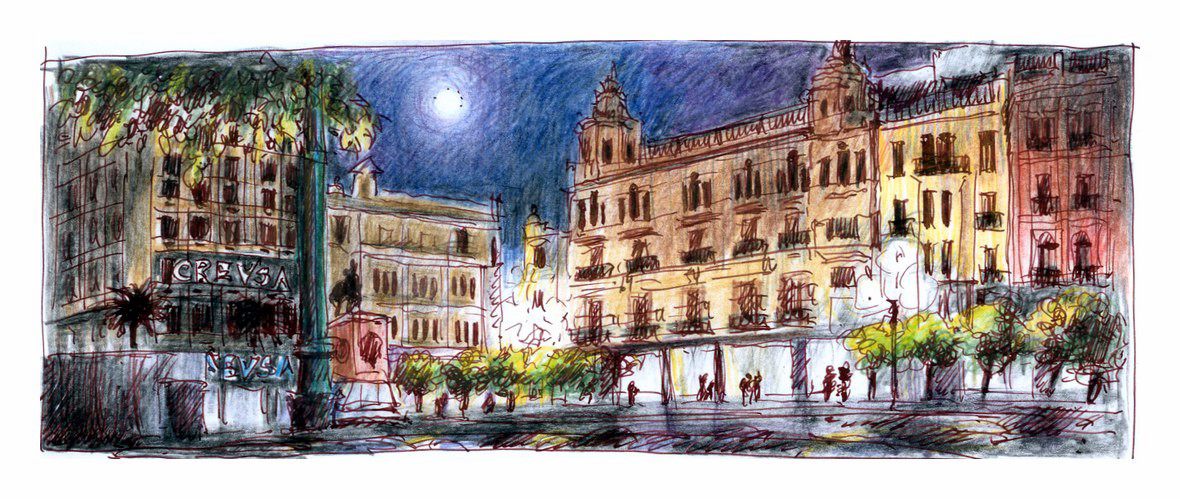 Cordoba - España (Cordoue) plaza de las Tendillas
Photo by
Guy Moll
---
The Department of Hispanic Studies is at the forefront of research and teaching of Hispanic literature and Spanish linguistics. Our offering in Hispanic literature and Hispanic linguistics now encompasses the literatures written throughout the Americas and Spain. Given Houston's location, as well as Arte Público Press and the Recovering the U.S. Hispanic Literary Project at UH, our Ph.D. program offers an optimal environment in which to achieve excellence.
For more information about the course work, expectations and the progression of the PhD program please see the PhD Students Handbook.
General Requirements
Minimum requirements for unconditional admission to the Ph.D. in Spanish
A completed M.A. degree in Spanish,or its equivalent
Students who have a M.A. degree in a field other than Spanish and plan to concentrate in literature must take, concurrently with the other courses normally required for the doctoral program, one course from each of the following groups:


Hispanic literature of the United States
Latin American literature through Modernism
Latin American literature since Modernism
Peninsular literature through the XVII century
Peninsular literature, centuries XVIII through XX

Students who have a M.A. degree in a field other than Spanish and plan to concentrate in linguistics must take five additional courses, concurrently with the other courses normally required for the doctoral program, at least one from each of the following groups:

Formal linguistics
Applied linguistics
Sociolinguistics
Completed online application through CollegeNet  [all required documents are to be directly uploaded to your account during the application process. Please prepare them beforehand. Official individual mark sheets in certain countries, transcripts, and degree certificates must be sent directly to the Graduate school and to the Graduate Admissions Advisor in Hispanic Studies at the addresses included below]
A statement of research in Spanish (between 1000 and 1500 words) explaining your academic interests and projects (see this link to find the guidelines you must follow for writing your statement).
Three letters of recommendation from the applicant's professors detailing the potential of the applicant at the Ph.D. level (sent directly by recommenders via CollegeNet)
Writing sample (Graded)
Official transcripts: A set of official transcripts must be sent directly from the institution to the University of Houston Graduate School (102 E. Cullen Building Houston, Texas 77204-2012).

Transcripts that are not in English must be sent along with an official translation made by a certified interpreter.
Additional Requirements for International Students
Certified copy of diploma: besides official transcripts and their translation, international students must send a copy of their graduation diploma. If the document is not in English, an official translation made by a certified interpreter must be attached. The diploma must be sent to the University of Houston Graduate School (102 E. Cullen Building Houston, Texas 77204-2012).
English certifications options:

TOEFL: Test of English as a Foreign Language: A score of at least 79 on the (international students only, unless they have earned a college degree from an American university)
Duolingo English Test for English proficiency exams. The exam costs $49 (USD) and may be taken from any computer that has a camera, audio and reliable internet. The exam portion of the Duolingo English Test contains a series of speaking, reading, writing and listening exercises. Following the exam, there will be an interview portion that will ask you to respond to various prompts in 30 to 90 seconds. The exam will take about 45 minutes to complete and you will need either a passport, driver license, or national or state ID to show the camera. The score results are generally received within a few days of exam completion. A minimum score of 105 is required.
For information on the TOEFL visit the Educational Testing Service web site. (UH Code: 6870)
IMPORTANT: ALL APPLICATIONS MUST BE COMPLETE BY JANUARY 15th (INCLUDING TRANSCRIPTS AND EXAM RESULTS TOEFL) IN ORDER TO BE CONSIDERED FOR FUNDING. INCOMPLETE DOSSIERS WILL NOT COMPETE FOR SCHOLARSHIPS. Click here to download the Spanish PhD application checklist
Once admitted to the program
No course in which a grade below B- (2.67) is received may count towards Ph.D. degree.
A minimum grade point average of 3.0 (B) for all graduate courses attempted is required for a graduate degree; failure to maintain this average will result in a warning, probation, or suspension.
Qualifying written and oral examinations are required to obtain admission to candidacy
The student must develop a dissertation on a topic in literature which can be considered to be original and of significance to scholarship.
Language requirement: Reading knowledge of one language in addition to Spanish and English is required. It may be demonstrated in one of the following ways:

Four college semesters at the undergraduate level (or equivalent proficiency as demonstrated by testing) in another Romance language.
Reading knowledge of Latin or any other approved language, as demonstrated either by satisfactory scores on the Educational Testing Service examinations for that language, or the completion of two semesters of graduate reading courses in the language chosen with a grade of B- or higher.
Application Fees
Fees payable by check, money order or online (Credit Card) with application
National Graduate

Total cost, $50
Payable to University of Houston

International Graduate Student

Total cost, $80
Payable to University of Houston
Deadlines
The Spanish PhD Program only has admissions for the Fall semester.
All documents and information must be uploaded through CollegeNet and/or sent to the University of Houston by January 15th
For applications and advisement, please write, call, or e-mail:
Dr. Paola Arboleda-Ríos, Interim Graduate Director, at parboeda@uh.edu
* Phone interviews will be conducted after application file is reviewed.