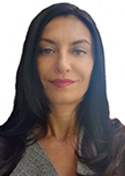 Associate Professor
PGH 403
713.743.9657
tbagashka@uh.edu
Research Interests
Comparative politics
Political economy
Post-communist politics
Political methodology
Biographical Summary
Education
Ph.D., Political Science, University of Rochester
B.A., Political Science, Business Administration, American University in Bulgaria

Selected Publications
- Are Parties Punished for Breaking Electoral Promises? Market-oriented Reforms and the Left in Post-Communist Countries (with Cristina Bodea and Sung-Min Han). European Journal of Political Research, forthcoming.

- The Influence of Procurators General in Constitutional Review (with Lydia Tiede). Journal of Law and Courts Vol 9 (1): 189-214, Spring 2021.

- Electoral Rules and Legislative Particularism: Evidence from U.S. State Legislatures (with Tanya Bagashka and Jennifer Hayes Clark). American Political Science Review, Vol 110 (3): 441-456, August 2016.
- Unpacking Corruption: The Effect of Veto Players on State Capture and Bureaucratic Corruption, Political Research Quarterly, Vol 67 (1): 165-180, March 2014.
- Risky Signals: The Political Costs of Exchange Rate Policy in Post-Communist Countries (with Randall Stone). International Studies Quarterly, Vol 57 (3): 519-531, September 2013.
- Invisible Politics: Institutional incentives and Legislative Alignments in the 1996-1999 Russian Duma, Legislative Studies Quarterly, Vol 33(3): 415-444, August 2008.