Psychology professor studies committed couples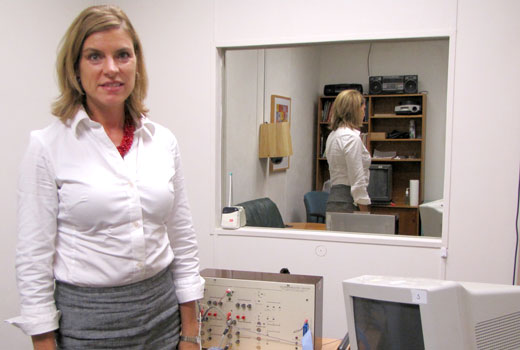 UH Psychology Professor Julia Babcock stands in the clinical setting used by the Center for Couples Therapy to assess couples during the Couples Check-Up, which includes measuring physiological signals and observation.
Psychology professor Dr. Julia Babcock said she wishes she knew how to end domestic violence; for the past 13 years she has researched and instructed courses about the subject at UH. As co-director of The Center for Couples Therapy, she guides graduate students in the process of assessing couples who may be at risk, and Babcock believes that what lawmakers are currently doing is not working.
"I wish I knew how to end domestic violence," Babcock said. "I think the answer is a lot of education and prevention. We've done some research to show that the existing treatments that we have that are often mandated by the states aren't very effective. I'm beginning to think that early intervention and prevention is maybe the way to go. That means intervening with at-risk couples early on … I think that those kinds of interventions that decrease harmful fights are also likely to decrease and prevent domestic violence."
The Center for Couples Therapy offers low-cost services to local couples who are in committed relationships, whether they be married, engaged, living together or even in the early stages of "getting serious," Babcock said.
One of the services provided by the Center is the Couples Check-Up, a three-hour, two-session meeting that involves a thorough assessment with physiology testing, an observation period of how the couples discuss an area of disagreement, questionnaires and interviews.
Under the direction of Babcock and co-director Dr. John P. Vincent, Psychology Clinical graduate program students and undergraduate research assistants play an integral role in collecting the data and administering the Couples Check-Up assessment to couples. Then, a graduate student writes a ten-page report about what is observed and it is provided to the couples upon their second follow-up visit.
"It's like the beginning of therapy, maybe the first three sessions compacted into two sessions," Babcock said. "It makes it more efficient and cost effective. The students play a huge role, we go over it together and edit the report and watch the tapes. We then do the (follow-up) feedback session together."
During the Check-Up, Babcock said that her research team tries to pinpoint a "particularly hot topic" for the couple.
"That's what we videotape them discussing in the lab, while they're hooked up to the physiology equipment, so we can collect the physiology data to see how they're responding emotionally and physiology during one of those heated arguments," Babcock said. "Then we can see if the couple gets flooded — flooded is when the heart beats over 100 beats a minute. When that happens, our problem-solving ability deteriorates, so we give them feedback on that and ways to compensate for flooding, like taking a time out or doing something else that is more soothing."
Feedback is also delivered to the couple about how they display emotion during the sessions. The researchers assess the couples' body language, tone of voice and other behaviors — and Babcock said they are particularly concerned with four distinct behaviors.
"Four that we look for particularly are the four emotional behaviors that predict divorce: criticism, contempt, stonewalling and defensiveness," Babcock said. "It's (a rubric) from my mentor at the University of Washington, Dr. John Gottman, who did longitudinal studies on couples, trying to predict who would stay happily married and who would go on to divorce, and those were the four behaviors that precited divorce."
In addition to her work in the Center for Couples Therapy, Babcock is teaching Abnormal Psychology for undergraduate students and Interventions I, which serves as an introduction to Clinical Psychology for first-year graduate students this semester. She said she enjoys working with the brilliant, enthusiastic and energetic students, undergraduate and graduate.
One "undergraduate student who volunteered to work in my lab is a top scholar," Babcock said. "I encouraged her to do her senior honors thesis on data that is collected in the lab, so we worked together on delineating a feasible project with the existing data. She wrote that up, and we presented it at a national conference, it got accepted for publication, and she had that on her vita before she interviewed for graduate school. So as an undergrad, she was already published, and I think she got into every graduate program she applied to. She's now getting a Ph.D. at the University of Denver."
For more information, call The Center for Couples Therapy at 713-743-8600, option 2, or e-mail couples@uh.edu or visit http://www.uh.edu/couples.
Babcock can be reached at jbabcock@Central.uh.edu.
—Brandon Moeller
Faculty Spotlight Archives
Monica Perales, History
Anthony Gary Dworkin, Sociology
Alexander Parsons, English
Casey Dué Hackney, Modern and Classical Languages
Dietrich Vollrath, Economics
Francesca Behr, Modern and Classical Languages
Teresa Chapman, Theatre and Dance