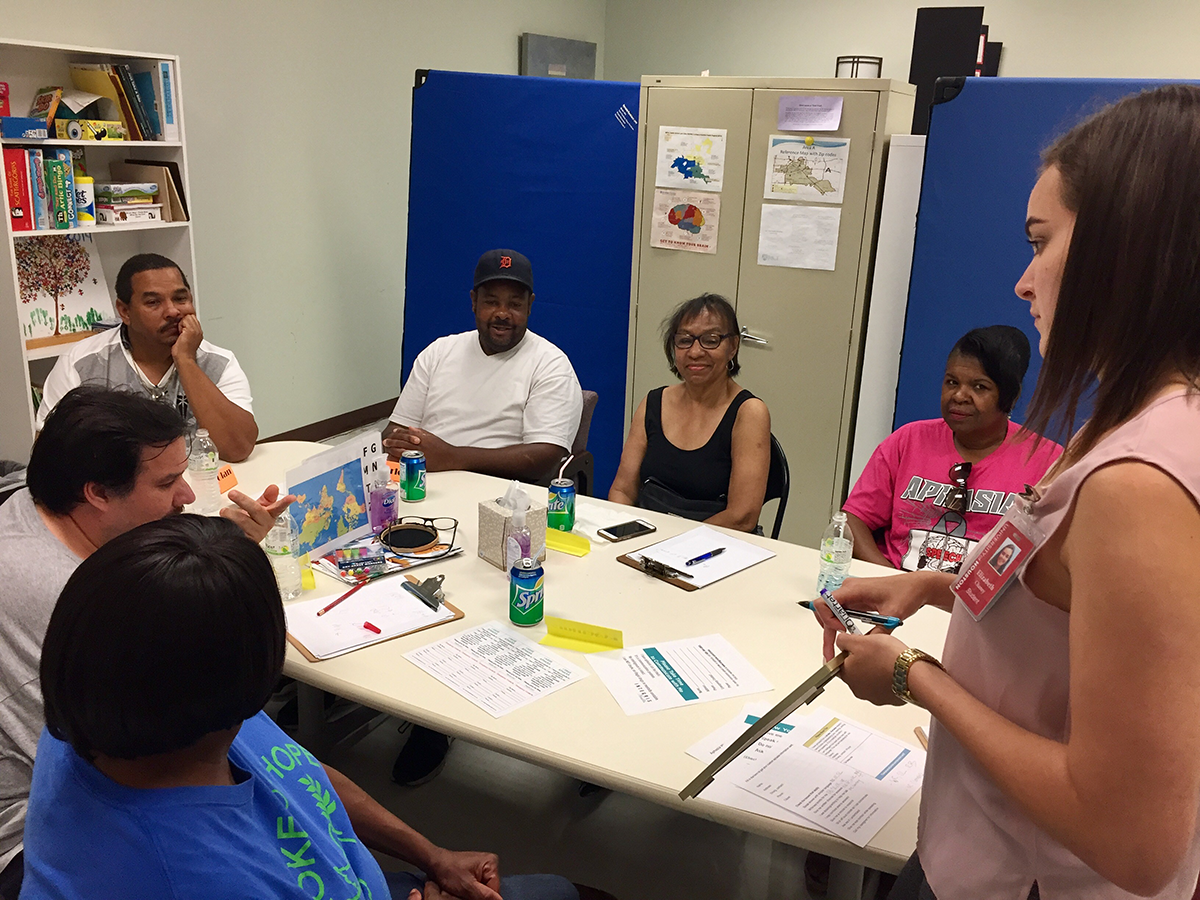 After suffering a stroke, Marian Bryant lost something that many of us take for granted – her ability to speak clearly and cohesively.
"My words – I couldn't get my words out," she says.
Bryant was struggling with aphasia - a communication disorder that results from damage to the parts of the brain that process language. There are treatments available for individuals with aphasia, but for people who live in low-income communities, help is not always accessible. It is estimated that there are 180,000 new cases of aphasia per year in the United States (National Institute on Deafness and Other Communication Disorders [NIDCD], 2015). NIDCD (2015) estimates that approximately 1 million people, or 1 in 250 in the United States today, are living with aphasia.
The College of Liberal Arts and Social Sciences' department of Communications Sciences and Disorders (COMD) saw the need for accessible speech therapy for the citizens of Houston's Third Ward community. So, CLASS partnered with the City of Houston and the Houston Aphasia Recovery Center (HARC) to provide services right in the community so that individuals like Bryant can regain their ability to speak. HARC is a non-profit center that began as a collaboration with UH COMD and individuals in the community who were looking for help for people with aphasia.
COMD's speech therapy sessions in the Third Ward began in 2015. After reaching out to area hospitals that treat underserved populations, COMD received referrals for two adults who had recently suffered strokes and needed speech therapy. Over time, the number of clients continued to grow, and after two years, they have a current caseload of 16 clients.
"The adults have no insurance and most are coping with severe disabilities," says Melissa Bruce, clinic director in CLASS' COMD department. "Many individuals who we see had a stroke, went to a hospital for a night or two and were sent home. Rehabilitation service is not an option for an uninsured person."
The collaboration is a win-win situation - students in COMD earn clinical credit hours and gain hands-on experience under the guidance of a CLASS faculty member, and a needed service is offered in the community.
"I don't have to travel far," says client Rosemary Brown. "I had a stroke, and then I had a speech impairment. I receive weekly services and it has helped me tremendously because I get the opportunity to better myself."
This rehabilitation is critical to their clients who simply want to regain their ability to communicate with their friends and family.
"We provide both group therapy and individual therapy," says Amy King, clinical educator with the program. "Group therapy is split into two parts - Conversation Groups and Book Club. Each last about one hour. In Conversation Group, the group members communicate with each other about various current events, news or personal topics of their choice in a supported, interactive environment. Each small group is led by a graduate student.
"During Book Club, popular novels are read in an aphasia-friendly group. Each person takes a turn reading a portion of the book. After a chapter is completed, a discussion is facilitated by a graduate student."
The resulting interaction results in not only a quality therapy session, but as an added bonus the clients are making friends and engaging in social exchanges that are difficult outside of their therapy sessions.
"It was hard to have friends after a stroke, your friends don't understand you. In this group, they understand what I am going through," says Brown.
Client Alan Craven agrees, "I've made good friends in this group, and we text each other during the week."
CLASS' community partners have also witnessed the positive effect that the collaboration has had on the clients.
"The Houston Aphasia Recovery Center is grateful for our partnership with the University of Houston to help support long term recovery of stroke and brain injury survivors living with aphasia. One of the resounding messages I hear from our Third Ward participants is that they have found a home and new family - a family where they are supported and understood. They value their friendships with their fellow participants and the support that the UH facilitator and students provide," says Eleni Christou-Franklin, Executive Director of the Houston Aphasia Recovery Center.
Bryant says, "The therapy has helped me at church – the members know I had a stroke. They talk to me all the time, and I talk back. Also, my grandchildren and I read and write together, and they tell me if I get something wrong… just like in group therapy!"