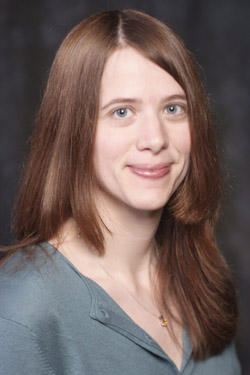 In the early days of President Trump's administration, a number of executive orders were debated by the media as well as political experts. One of the orders frequently discussed in the news was the 2014 executive order signed by then President Obama which bans federal contractors from workplace discrimination based on gender identity or sexual orientation. Many individuals wondered if the order would continue under the Trump administration.
A CLASS researcher has been awarded a $250,000 grant from the U.S. Department of Labor to examine how well contractors are following the 2014 anti-discrimination order.
Dr. Amanda Baumle, associate professor of sociology, is working with two faculty members from the University of Massachusetts at Amherst to analyze data and determine the effectiveness of the order. Her co-investigators on the project are Dr. M.V. Lee Badgett, professor of economics, and Dr. Steven Boutcher, assistant professor of sociology.
"The Equal Employment Opportunity Commission (EEOC) collects data each time an individual files a complaint of discrimination," says Dr. Baumle. "We will examine the language the individual uses in their complaint, the characteristics of the company that the complaint is against, and any state- or city-level factors that may offer additional context surrounding the complaint."
Dr. Baumle says that evidence does exist that some Lesbian, Gay, Bisexual and Transgender (LGBT) individuals do experience discrimination, but little is known about the form those experiences take or about who is doing the discriminating – coworkers, supervisors, or customers – and why.
"In addition, it is a huge step between an individual perceiving they have been discriminated against, and them taking the further step of filing a claim," she says.
No one has had access to the LGBT discrimination complaint data collected by the EEOC prior to now. Dr. Baumle's study will be the first to analyze detailed LGBT discrimination experiences in a in a wide range of geographic, occupational, and industry locations. This research will eventually provide guidance to the Department of Labor in its efforts to protect LGBT workers from unfair treatment in the workplace.
Examining workplace disputes is not new to Dr. Baumle - her previous professional experience includes working as a labor and employment lawyer.
"As a lawyer, I did defense work on behalf of various companies," she says. "That work led me to want to further understand real-life, workplace experiences."
Her background as a lawyer, in addition to her undergraduate and graduate degrees and research in the field of sociology, give her a unique background as she examines the data supplied from the EEOC.
Ultimately, over the next two years Dr. Baumle and her collaborators seek to generate new knowledge about how and why discrimination against LGBT people occurs and whether policy can reduce discrimination.
This grant was one of nine awards recently announced by the U.S. Department of Labor. The department awarded a total of $1.97 million to the nine grantees to support university-based research of workforce policies and programs.
-Monica Byars