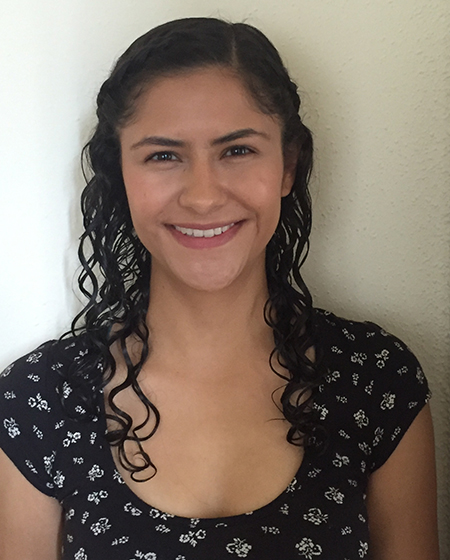 Just prior to her senior year in high school, Camila Escobar took a leap of faith and left her home in Bogota, Colombia to move to Houston and continue her education in the United States.
"I moved here with my brother and my grandmother," says Escobar. "My brother and I wanted to go to college here and my grandmother came to take care of us while my parents stayed in Colombia in order to support us financially."
While in school in Colombia, she became intrigued with international politics and diplomacy so she joined her school's Model United Nations program. However, when she enrolled at Atascocita High School after moving to Houston, she learned that the MUN program wasn't offered through her new school. Undaunted, she joined a local home-schooled team so she could continue to pursue her interests.
In 2013, after graduating from high school, Escobar enrolled at UH with initial plans to study political science. She also gained some hands-on work experience through an internship at an area church.
"I worked at First Methodist Houston – Westchase Campus. After that experience, I became increasingly interested in the philosophy of religion and the impact of different religious worldviews on individuals and communities," says Escobar.
Fortunately for her, in 2014 CLASS began offering religious studies as a major. With the opportunity to pursue both of her interests simultaneously now possible, Escobar decided to double major and added religious studies to her curriculum.
"Being exposed to Houston's diversity I became curious about the religious experiences of different communities and how they interpret and communicate their worldview in a way that is meaningful and compelling for them," she says.
Noticing her interest areas, Dr. Christian Eberhart, professor of religious studies, encouraged her to pursue research via the Summer Undergraduate Research Fellowship program. SURF provides funding for undergraduate students to participate in a focused, 10-week research experience under the direction of UH faculty.
"Camila distinguished herself through several excellent assignments; that's when I started to assume that she would be a good candidate for a research project," said Dr. Eberhart. "One of her final papers was by far the best student paper I have received while teaching at the University of Houston, featuring original research, a clear thesis, a convincing argument, and a fair treatment of the subject matter while conveying her passion for the subject matter."
Escobar applied to the program for the summer of 2016 and was awarded the fellowship. With Dr. Eberhart as her mentor, she pursued the research topic: "Preaching of the Old Testament in Selected Megachurch Sermons in the Houston Area During 2015."
"I performed a comparative study of the sermons in two of the largest megachurches in Houston (even in the United States) - Grace Church and Lakewood Church. My goal was to identify patterns in the preaching the Old Testament and compare statistically its usage versus the New Testament," says Escobar.
At the end of the summer, Escobar's conclusions included the fact that even though both churches have characteristics that define them as a typical 'megachurch,' the trends in the preaching of the Old Testament at each is unique.
"The data gathered revealed that there is an uneven distribution of references to the books of the Old Testament - five books account for 64.42% of the references, while the other 34 books correspond to 35.58% of the references," she says.
Escobar believes any challenges she faced during this first research experience will be beneficial to her future education and career goals. After she graduates, she plans to pursue a doctorate in religious studies, and eventually begin a career in academia.
"Experiencing failure and adapting the project as obstacles came up was what made me grow the most," she says. "At times I was frustrated and stressed because my original plans seemed unattainable, but Dr. Eberhart always encouraged me and provided honest feedback on how to stay on track."
"Camila's research topic is very pertinent since little research has been conducted in this area. Hence her project could draw the attention from many who are interested in aspects of the development of the mega-church culture in Houston. It would also supplement my own research in the area of biblical studies and help me applying it to the local environment. I am thus very excited about Camila's project for my own scholarly interest and hope that it might develop into a long-term endeavor," adds Dr. Eberhart.