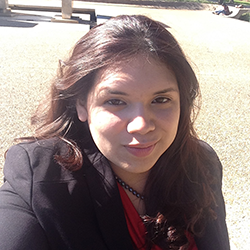 When she wasn't working on her own coursework, Marissa Villareal could often be found helping Houston-area high school students with theirs.
She works with Upward Bound, a U.S. Department of Education program designed to enable low-income high school students to go to college.
Villareal knows the program works because she is one of their success stories.
"Not too long ago I was in my students' position, trying to figure out what to do after high school," she says. "I can honestly say if it wasn't for this program I wouldn't be here today or the person I am today. So I try to give back to a program that has already have given me so much."
Today, Villareal is poised to graduate from UH and has opportunities she hadn't imagined as a high school student. Her research on hyperlocal online communities may take her to a conference in China – a far cry for a student who left Texas for the first time in her life last summer.
After graduating from Channelview High School in 2011, and with the encouragement of Upward Bound staff members and volunteers, Villareal entered San Jacinto College to study psychology.
As a first-generation college student, entering San Jacinto was a goal fulfilled. However, it didn't take long for her to figure out that she was in the wrong major.
"By the end of my first semester I had already changed my mind about psychology. In the meantime, I enrolled in a sociology class to meet my humanities requirement. I really enjoyed the 'Intro to Sociology' class – so much so that I enrolled in another sociology class over the summer. From that point I fell in love with sociology and decided to change my major," she recalls.
After two years at San Jacinto, she transferred to UH to complete her bachelor's degree in sociology.
"Between the friendly people and the great atmosphere, I couldn't imagine going anywhere else but UH," she says. "I have been given so many opportunities I wouldn't have had if I'd chosen another university. Besides, UH is so diverse and that was great for my major."
Villareal had to balance her classwork, volunteer work, and two jobs during her time as a CLASS student. But she persevered and is now graduating with a degree – the first in her family to do so.
Her time as a sociology student also gave her opportunities to pursue research and travel.
"A year ago, my advisor suggested I take part in a research program at the University of Pittsburgh, called i3. I was so nervous because I had never been out of the state by myself before!" she says.
The iSchool Inclusion Institute (i3) is an undergraduate research and leadership development program that prepares students from underrepresented populations for graduate study and careers in the information sciences. Only 25 students from across the country are selected each year to become i3 Scholars.
As part of the program, Villareal spent the summer of 2015 living on campus at the University of Pittsburgh, taking classes to help her hone her research skills. In addition, she spent this academic year working with three other i3 participants on a yearlong project.
"Myself and my three other teammates from California, Vermont, and Alabama decided to work on a research project about hyperlocal online communities," says Villareal. "We will go back to Pittsburgh in early July and present our findings to the i3 program. From there, we will see if our research is qualified to enter the i3 conference next year which will be held in China."
After graduation, Villareal plans to work for a while before returning to school to earn a Master's degree in education.
"I want to help students to know their options after high school. Maybe I will be a teacher or counselor…there is also the possibility of going into politics to create laws to help underprivileged students. Or, I could go into research and search for ways to improve teaching methods.
"What I know for sure is that I want to help our future generations be more successful," she says.
- By Monica Byars