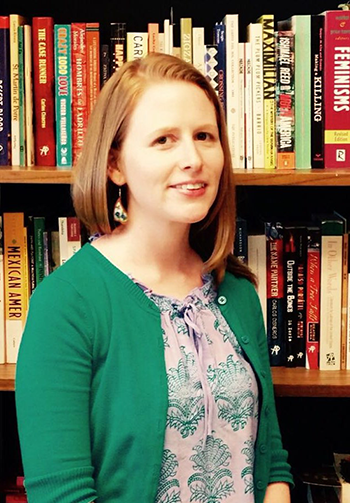 After earning her Bachelor's degree in Spanish and Latin American Studies from Furman University in 2006, Emily Bernate began her professional career as a bilingual teacher in the Houston area.
She didn't like what she saw.
"I was dissatisfied with the elementary bilingual programs available to Hispanic students. I think they taught students that their knowledge of Spanish was problematic rather than something they should value and maintain," she says.
"By forcing students into English before they had developed their native language, these programs were keeping students from developing critical thinking skills which would allow them to be successful in middle and high school."
In order to learn how to improve the education system for Spanish-speaking students, Bernate decided to continue her own education. She earned a master's degree in Spanish Linguistics from UH in 2012. Immediately following that, she stayed at UH and began working towards a doctoral degree in Spanish Linguistics.
On May 12, she will be awarded her doctorate degree, and next fall she will begin her new position as a tenure track faculty member at St. Edward's University in Austin, TX. "I look forward to teaching Spanish linguistics courses and developing a program for heritage learners at my new university," she says.
Bernate studied linguistics because she was interested in the ways that society shapes our language choices and she wanted to learn about different ways to encourage bilingualism in society.
"After I started the program, my interests changed and I became more interested in language and gender in bilingual environments," she says.
While she was teaching Hispanic Heritage students at UH, she noticed that her female students consistently used verb forms that male students of the same proficiency level were avoiding. Those observations lead to her dissertation topic.
"I developed a verbal politeness scale which rates the verb tenses that can be used in Spanish to make requests," says Bernate. "I then administered a questionnaire to Spanish speakers in Mexico City, Brownsville, and Houston."
As she collected her research data and neared the end of her PhD program, Bernate realized she wanted to have more time to devote strictly to completing her research. So, she applied and was granted a CLASS Dissertation Completion Fellowship.
The Dissertation Completion Fellowship program was started in 2012 and provides stipends of $20,000 to cover students' expenses for up to a full academic year while they complete their dissertations.
The fellowship gave Bernate the time and support she needed to complete her research. "It allowed me to finish my dissertation in under two years because I was able to devote most of my time to my research. Before receiving the fellowship, I was teaching Spanish classes at UH to earn money. I really missed teaching this year, but the fellowship allowed me to focus solely on my research," she says.
By the end of her fellowship year, Bernate had concluded that women used higher-rated (or more polite) verb forms than men in Mexico City, but that this gender difference is more pronounced for speakers in Texas who had received most of their schooling in English.
"This is because when bilingual speakers practice Spanish infrequently, they find ways to simplify their Spanish system and use fewer verb forms. However, women seem to retain the use of certain verb forms for longer than men in order to retain a higher level of politeness in Spanish," Bernate adds.
When she begins her position at St. Edwards, she plans to work on another research project that focuses on gender differences and politeness markers used by bilingual Spanish speakers.
"Emily is a professional who has an in-depth knowledge of the literature regarding her research topics; she has experience conducting sociolinguistic research and a solid academic formation," says Dr. Manuel J. Gutiérrez, Bernate's advisor and professor of Spanish Linguistics. "I am convinced that in her future projects she will produce important contributions to the fields of gender studies and sociolinguistics in particular, as well as to the humanities and social sciences in general."
- By Monica Byars