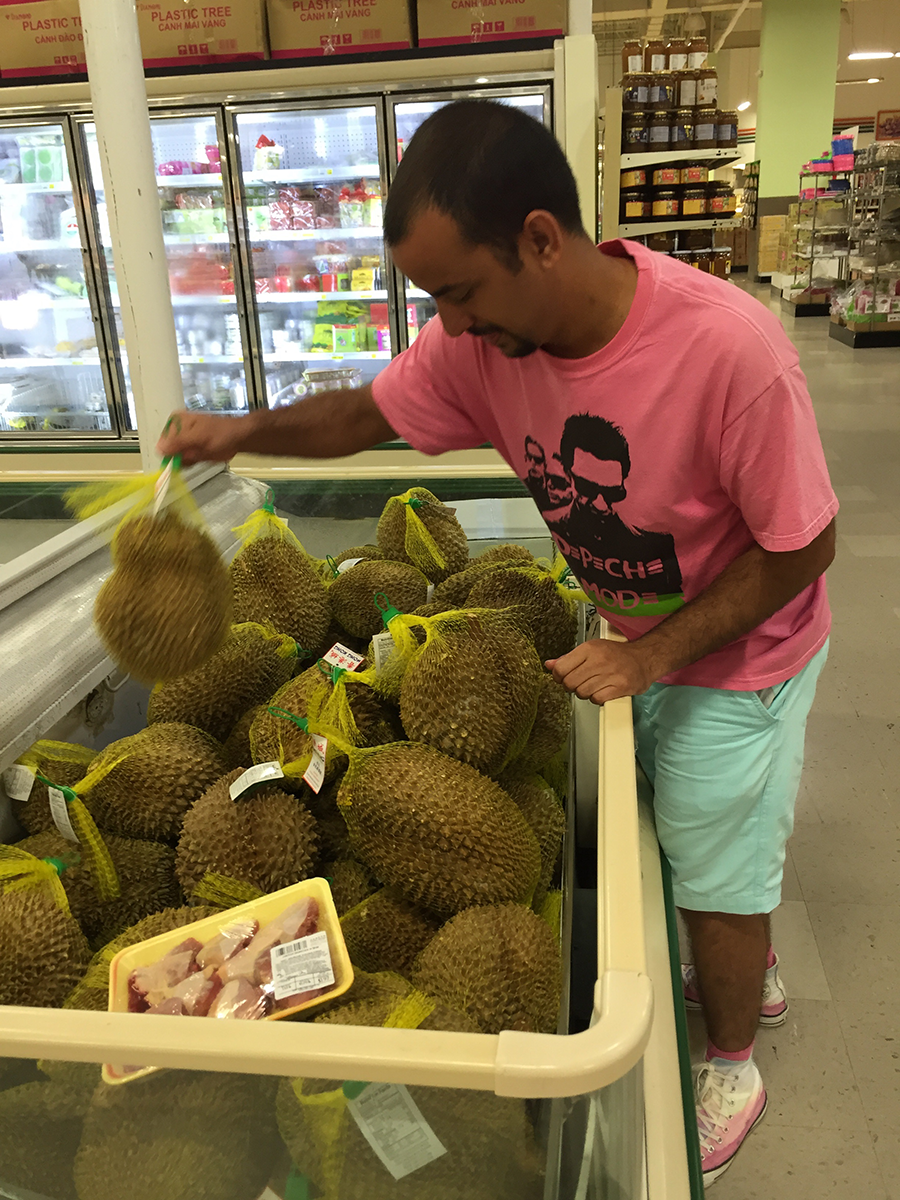 Jonathan Khandaker examines items for sale at a
Houston-area ethnic market as part of the study
abroad at home course.
Sociology major Jonathan Khandaker has never studied abroad, but this summer he found a way to have a similar experience while remaining close to home. He enrolled in a study abroad-at home course.
Studying abroad gives students a unique opportunity to immerse themselves in another culture while simultaneously earning credit towards their degree. However, for some students, international travel is not possible for a variety of reasons. Because of this, two CLASS faculty members decided to recreate the travel abroad experience for students unable to leave Houston.
Dr. Jessica Brown, assistant professor of sociology, and Dr. Stella Grigorian, associate instructional professor of sociology, came together and developed two courses (a total of six credit hours) during the summer mini-semester that followed the format of a traditional, study abroad curriculum. One course was called Global Houston: Immigration (taught by Dr. Brown) and the other was Global Houston: Food and Culture (taught by Dr. Grigorian.)
"We blended classroom instruction with off-campus trips – much like what is done when students travel abroad for a semester," says Dr. Brown. "This allowed students to first learn about a culture in a classroom setting, and then to experience first-hand some of the unique offerings of our local Houston community from a more scholarly perspective."
Khandaker says, "After speaking with Dr. Brown and finding out that students would learn about Houston's immigrant groups, I got very excited. One of the courses was already full when I tried to enroll, but luckily a spot opened and I was able to register for both of them."
Because Houston is one of the most diverse, multicultural and global cities in the country, Dr. Brown and Dr. Grigorian saw this as an ideal location to explore various cultures while remaining close to home.
"We focused on populations that were most heavily represented in Houston's immigrant community - people who have come from, or whose families were from, Mexico, China, India, Vietnam and Nigeria, for example," says Dr. Brown. "We also looked at refugee populations, such as Syrians and the Congolese, and covered some long established migrant/minority groups like American Jews and African Americans."
Students in the study abroad at home course help
Houston-area refugees grow crops to sell at
local farmers' markets.
The student's coursework focused on the sociology of immigration to Texas, as well as the relationship between food and culture.
"Most afternoons included a field trip to a site that incorporated elements of all those things," says Dr. Brown. She added that students met with and gained first-hand knowledge directly from the immigrant populations that they were studying.
"It was interesting to learn things about immigrant's experiences in Houston specifically," says Khandaker. "I did know a little about how immigrants were mistreated, but it was good to learn in detail and be able to identify patterns of behavior in discrimination."
Since Khandaker has plans to attend law school after graduating from CLASS, and then eventually become a politician – this course helped him to have a deeper understanding of the communities he may eventually serve.
As part of their field experience, students visited ethnic food markets, museums, and ethnic restaurants. In addition, they completed a community project that helped local refugees develop urban farm plots so they can gain self-sufficiency through small-scale agriculture.
"The agricultural project was part of our unit on refugees, we partnered with the organization, Plant it Forward, who works to help refugees self-provision by growing crops to sell at local farmers markets," says Dr. Brown.
"One really fun thing about the course was it allowed all of us to really get to know each other since we usually ate lunch as a class and spent so much time together," adds Dr. Brown.