Steven G. Craig appointed Interim Dean of the College of Liberal Arts and Social Sciences
Professor of Economics to lead CLASS during transition of arts units to new College of the Arts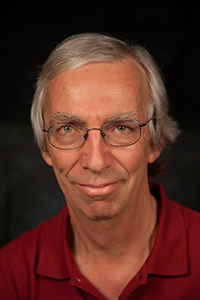 Dr. Steven G. Craig, Professor of Economics and Associate Dean of Faculty and Research, has accepted the appointment to the position of Interim Dean of the College of Liberal Arts and Social Sciences.
Provost Paula Myrick Short wrote in the January 30 announcement about the appointment: "I have asked Dr. Steven Craig, Associate Dean, to step in as Interim Dean and assume all the responsibilities and decision-making authority of the Dean. I thank Dr. Craig for being willing to assume this important responsibility."
Prior to assuming this new role, Dr. Craig was an associate dean from June 1, 2013 until January 31, 2015. He now steps into the position vacated by Dr. John W. Roberts, who served as the CLASS Dean from July 1, 2010 until January 31, 2015.
Dr. Roberts tendered his resignation in early January to accept a vice presidency with Isaacson Miller, an executive search firm based in Boston with offices in Washington D.C. and San Francisco that focuses on higher education and not-for-profit leadership positions.
"In my view, John Roberts was really good for CLASS and I'm sorry that he left," Dr. Craig said Thursday as he led a Chairs and Directors meeting. "I'm going to stay on a path that aligns closely to where he was leading us."
Dr. Craig is a veteran of the University of Houston, arriving at UH immediately after obtaining his Ph.D. in economics at the University of Pennsylvania. He is a widely published scholar who has received research grants from several federal and state sources, as well as the CLASS Ross M. Lence Teaching Excellence award.
Throughout his career, Dr. Craig has balanced an active research and publishing agenda with innovative teaching and extensive service to the UH community. He was instrumental in crafting the initial CLASS by-laws when it was formed from the merger of two other colleges. Dr. Craig chaired the merged College's first promotions and tenure committee and served a term as Faculty Senate president.
Dr. Craig's extensive experience with the CLASS merger will help him lead the college as it moves its performing and visual arts units into a new and separate college.
Chancellor and President Renu Khator provided an update on the College of the Arts effort in her faculty and staff update distributed via email on January 26.
"The first-year funding to establish the College of the Arts has already been approved," Dr. Khator wrote. "This initiative should come to fruition in the next few months."
Dr. Craig also assured the CLASS faculty leadership on Thursday that one of his top priorities will be to assist in the successful launch of the College of the Arts and to maintain excellence in CLASS during and after the division.
As the interim CLASS dean, Dr. Craig is also committed to promoting the research being done by CLASS faculty and demonstrating how their work outside the classroom increases student success and learning outcomes.
"It's important to keep our researchers in classrooms because research is how we teach creativity," he said.
Dr. Short stated in her email announcement about Dr. Craig's appointment that she "will appoint the co-chairs of the search committee and the committee members" for the next CLASS dean and that the firm Greenwood/Asher & Associates, Inc. has been contracted to assist the search committee.
- By Shannon Buggs