UT Sociologist to give McGovern Lecture in Family, Health, and Human Values
Dr. Jennifer Glass' Oct. 30th talk is entitled "Salary, Family, Climate: What Keeps Women Out of STEM Fields?"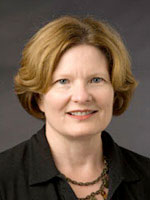 The College of Liberal Arts and Social Sciences has invited noted sociologist Dr. Jennifer Glass to give the John P. McGovern Endowed Lecture in Family, Health and Human Values at 6:30 p.m., Thursday, October 30 in the University Center Theater.
Dr. Glass is the Barbara Bush Professor of Liberal Arts in the Department of Sociology and Research Associate in the Population Research Center  at the University of Texas, Austin.
She has published over 50 articles and books on work and family issues, gender stratification in the labor force, mothers' employment and mental health, and religious conservatism and women's economic attainment.
"Dr. Glass is a researcher in the intersection on the two sides of women's work – the realm of paid work and the realm of family work," said Elizabeth Gregory, director of the Women's, Gender and Sexuality Program and professor of English at UH. "This is a major question for the country going forward – how to encourage the participation of women and men in both realms in order to build the work force of the future."
The Alfred P. Sloan Foundation,  the National Institutes of Health and the National Science Foundation have funded Dr. Glass' research, including a $1.5 million NSF award to investigate for the next five years early career transitions in S.T.E.M., the increasingly common acronym for the academic and employment fields of science, technology, engineering and mathematics.
Dr. Glass' Oct. 30th talk is entitled, "Salary, Family, Climate: What Keeps Women Out of S.T.E.M. Fields?"
"The McGovern Lecture is a highlight in the intellectual life of our college, bringing together faculty, students, and the community around vital questions surrounding family, health, and human values," said Catherine Patterson, associate dean for graduate studies in the College of Liberal Arts and Social Sciences. "Prof. Glass's presentation will contribute to an important conversation about how work in scientific and technological fields affects the well-being of women and families."
The Department of Commerce reported in a 2011 study that although women are 50 percent of the U.S. workforce, they are only 24 percent of the nation's STEM workforce. The White House has identified addressing women's low participation in S.T.E.M. jobs as critical to the nation's ability to remain intellectually and economically competitive globally.
Dr. Glass recently published with Cornell University colleagues the NIH-funded study, "What's So Special about STEM? A Comparison of Women's Retention in STEM and Professional Occupations."
Their research follows female college graduates in the National Longitudinal Survey of Youth 1979 panel and compares the trajectories of women in STEM-related occupations to other professional occupations. Results show that women in STEM occupations are significantly more likely to leave their occupational field than professional workers.
On October 30th, Dr. Glass will discuss why women exit STEM fields and what universities and employers can do to get them to stay in these fields.
This year's McGovern Lecture supports the University of Houston's initiative to increase its recruitment and retention of women faculty in S.T.E.M. fields.
UH has been awarded a National Science Foundation Institutional Transformation (IT) ADVANCE Grant to support its Women in STEM efforts and create the Center for ADVANCING UH Faculty Success. UH is the fifth institution of higher education in Texas to receive an NSF ADVANCE IT award, joining the University of Texas at El Paso, Rice University, Texas A&M University, and the University of Texas Pan American.