Gov. Rick Perry Appoints Beth Madison to UHS Board of Regents
CLASS Dean's Advisory Board member, Moores School of Music supporter fills unexpired term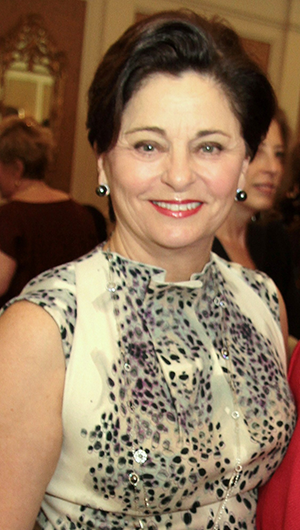 Gov. Rick Perry has appointed Beth Madison to the University of Houston System Board of Regents.
Ms. Madison replaces outgoing Regent Nandita Berry, a CLASS alumna who resigned from the Board after being appointed Texas Secretary of State by Gov. Perry. Her term expires Aug. 31, 2015.
A UH alumna, Ms. Madison serves as a member of the College of Liberal Arts and Social Sciences Dean's Advisory Board and the C.T. Bauer College of Business Foundation. She is a life member of the UH Alumni Association and Phi Kappa Phi Honor Society. She chaired with her friend Eleanor Connan the 27th annual Moores Society Dinner Concert Gala held March 27, 2014 at the Wortham Center, a sign of her continuous commitment to the Moores School of Music Society.
Ms. Madison underwrites the UH Madison Merit Scholarship and established the Madison Endowed Professorship in Music, which is held by Nancy Weems, the Grammy Award-nominated pianist and Moores School of Music piano coordinator.
In 2010, Ms. Madison was awarded the UH President's Medallion for her philanthropic leadership and business acumen.
Ms. Madison is a shareholder and managing director of Higginbotham and Associates and co-founder of Madison Benefits Group. She is a member of the Society of Certified Employee Benefits Specialists and Chartered Property Casualty Underwriters Society.
Additionally, she is a board member for the Foundation for Teen Health, board secretary of the Rice University Shepherd School of Music Society, a trustee of the Madison Charitable Foundation, and an underwriter of the University of Science and Arts of Oklahoma Loella Elizabeth Madison Scholarship.
Ms. Madison's love and strategic support of the performing arts led to her being elected senior chairman of the Houston Grand Opera Association Board of Directors. She is the board secretary of the Alley Theatre and a board member and past president of the World Affairs Council of Houston.
She is also a past board member of the Houston Symphony, Trees for Houston, and Greater Houston Preservation Alliance, and past president of the Houston Estate and Financial Forum.
The Greater Houston Women's Chamber of Commerce inducted her into its Women's Hall of Fame in 2013.
The UHS Board of Regents is comprised of nine regular members and a student regent. Every two years, the Texas Governor appoints three members to the board. Each regular member serves a six-year term, and student regents serve for one year.
Madison will serve as a regent with Chairman Jarvis Hollingsworth, newly elected vice chair Tilman J. Fertitta, secretary Welcome W. Wilson Jr., and Regents Spencer D. Armour III, Roger F. Welder, Durga D. Agrawal, Paula M. Mendoza, Peter K. Taaffe and student regent Benjamin P. Wells.
For more details on the UH System and the UH System Board of Regents, visit http://www.uhsa.uh.edu/.
- By Mike Emery