Job market seeking masters of applied economics
Three-year old master's program preparing graduates for economist careers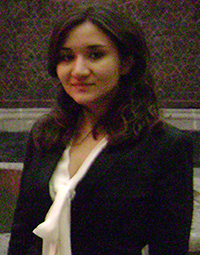 In an economy where there are more qualified workers than available jobs, Claudia Guidi was unusual – she had choices to make.
An August 2012 graduate of the Master of Arts in Applied Economics program, Guidi received two job offers after graduation.
One was from the Bureau of Labor Statistics in Washington D.C., where she would work as an economist and have daily opportunities to use her multilingual skills as part of the federal government.
The second offer was from University of Texas Medical Branch in Galveston as a research coordinator, which was closer to home and would give her the opportunity to utilize her newfound love of research.
"I'd always wanted to work for the Bureau of Labor Statistics," said Guidi. "But during my classes I worked on a lot of research projects. That experience made me realize that I really enjoyed that type of work as well."
The fact that Guidi's job offers came from two very different industries – healthcare and government – is a testament to the broad scope of topics covered through the M.A. Applied Economics program.
CLASS economics faculty designed the 12-month program to teach students the quantitative skills currently in demand in the workforce. The program began three years ago with 11 students. Over the past couple of academic years, the number of students has climbed to near 20. Next year, Dr. Rebecca Achee Thornton, the applied economics program director, plans to admit 25-30 students into the program.
"There are not many of these types of programs across the country, but they are starting to pop up," said Dr. Thornton. "I'm starting to see more and more universities put together programs in applied economics – it is a new approach to offering Master's degrees."
The applied economics program is completely independent of the traditional Master of Arts in economics program. The two curricula cover different subject areas and serve two different types of students.
"UH does offer a Master's of Economics, but it is really just part of the PhD program," said Dr. Thornton. "It is very theory driven, and not particularly useful outside of academics. The one-year M.A. Applied Economics program helps students who want to get a job in private industry or government. Those job seekers will need more advanced quantitative skills than what the Bachelor's degree alone gave them."
The applied economics program begins each fall semester and includes courses in economic modeling and forecasting, as well as applied courses in energy and health economics – two important industries in the Houston area. The program concludes with the opportunity for students to either participate in an internship or complete a thesis project with a faculty researcher.
"There are a lot of analytical jobs out there, but you need just a little bit more math, a little bit more statistics, a little more experience working with data…and that is what this program is designed to do," said Dr. Thornton.
According to the U.S. Bureau of Labor Statistics, most economist jobs require an advanced degree. Employment of economists is projected to grow six percent from 2010 to 2020, slower than the average for all occupations. However, those with a master's degree or Ph.D. should have the best job opportunities.
Customizing their education by combining degrees from different disciplines may also give job seekers an advantage as they begin their job search.
"This program also works well jointly with other programs," said Dr. Thornton. "A Master's in Finance combined with the M.A. Applied Economics would be a fantastic combination. We have a student in law school who plans to finish this program. A Master's Degree in Public Health with this degree is a great combination. Students with this understanding of economics – paired with their other specialty – will have a unique skillset."
Graduates from the applied economics program have gone on to work for organizations such as Mercer, Praxair Inc., and the Center for Energy Economics.
After conferring with faculty members and considering the pros and cons from each of her job offers, Guidi ultimately decided to accept the position at UTMB.
"Although I'd always wanted to work for the Bureau of Labor Statistics, this was my first full-time job and I wanted to get used to it," said Guidi. "For now, I wanted to stay in Houston. Hopefully one day I will have another opportunity to live and work in Washington D.C."
In her new role as a Research Coordinator, Guidi is examining the socio-economic effects on the heath of individuals who migrate between Mexico and the U.S. In this longitudinal study, she will be following the same population of research subjects over time.
"I was really excited about this research opportunity," said Guidi. "This will be good preparation for me because I am considering going back to school at some point to earn my PhD, and this position will allow me to publish my work."
Dr. Thornton is very proud of Guidi, a student she has been mentoring since Guidi was an undergraduate student.
"Both of her offers were outstanding," said Dr. Thornton. "Claudia was always a hard worker and she blossomed in this M.A. Applied Economics program. I consider her the poster child for this program. It was a really tough choice for her. She spoke to all of us, face to face, looking for advice on which job to take. In the end, her love of research led her to UTMB."
- By Monica Byars