Former Houston Chronicle business columnist joins CLASS as communication director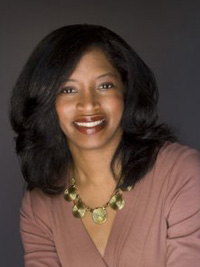 The College of Liberal Arts and Social Sciences is excited to announce that Shannon Buggs has been appointed as its Director of Communication.
"We are thrilled to have Shannon Buggs join our staff," Dean John W. Roberts said. "Her background and experience will be an asset to what we are trying to do to promote faculty and student achievement in CLASS. As Director of Communication, she will bring coherence and a consistent voice to the College's efforts to tell the many incredible stories that make us the artistic and intellectual heart of the university."
Buggs, perhaps best known in Houston for her 11-year-career as the Houston Chronicle's personal finance columnist and reporter, began her work in the new position on Oct. 6.
"I'm extremely excited," Buggs said. "As an undergraduate, I was an English major and I earned a master's degree in journalism. I feel like I'm back at home."
"When writing about personal finance, I had to take a very complicated subject and make it easy to understand," Buggs said. "Similarly, the College of Liberal Arts and Social Sciences is a very massive and complex entity and my goal is to help people inside the university and outside better understand the importance and impact of the social sciences and humanities."
An award-winning journalist and dedicated community volunteer, Buggs has been recognized by industry professionals and community organizations for her financial expertise, journalistic credibility and accessible communication style. She has 15-plus years of experience in local, national and business news coverage and more than three decades of nonprofit service as a volunteer and a leader.
Recently, Buggs launched Meta-Four Houston, a youth development nonprofit that uses the writing and performing of original poetry to encourage self-expression and advance literacy among Houston's youth ages 13-19.
"Through Meta-Four Houston, the next generation of city leaders discovers what matters most to it and how to express that purpose using the most powerful tools available — its own words and voices," Buggs said.
Meta-Four Houston is collaborating with artist Marc Bamuthi Joseph, the UH Cynthia Woods Mitchell Center for the Arts and several grassroots organizations to present "Life is Living: Houston" on November 6 in Third Ward's Emancipation Park. Buggs serves as the steering committee chairwoman for this effort.
Buggs also shows her commitment to the performing and literary arts by serving on the advisory boards of Writers in the Schools, DiverseWorks and the University of Houston's Friends of Women Studies guild. She is moderating the Women Studies Program's next Living Archives event: Green Women - Houston Environmentalists on October 18 in the Rockwell Pavilion of the M.D. Anderson Library.
A sixth-generation Texan and a Houston native, Buggs earned a bachelor's degree in English and American literature and language from Harvard University and a master's degree in journalism from Northwestern University. She also completed the personal financial planning certificate program at the University of Houston.