Appointment Scheduling Through Navigate
Students can make a face to face or remote advising appointment via the Navigate app. Please follow the below steps in making your advising appointment:
Login to Navigate via the app or through your access.uh.edu account
Click on the appointments icon
Click make an appointment
What type of appointment – Select Academic Advising
Pick the service you want the appointment: Find the major (Exercise Science, Fitness & Sports, Sports Administration or Human Nutrition and Foods) or hhp minor advising
Select a date and hit find available times
Pick a location for your appointment – CLASS - Liberal Arts and Social Sciences Online/Remote Appointments or CLASS – Health and Human Performance Department, Rm 102 Garrison (face to face)
Select an HHP advisor, you can see any HHP Advisor.
Select a date and time for your appointment. We book appointments 30 days out so make sure to check several weeks.
What to expect in your remote advising appointment?
Remote advising appoints will take place via Teams. Your advisor will contact you with instructions at least 24 hours prior to your appointment. Please email your advisor back with any questions that you would like them to address in the appointment the day prior to the appointment. Should you have any additional questions please respond to the email from your advisor.


Appointment Scheduling Through Navigate
The UH Guide app is now Navigate, and along with the new name comes a great new feature for your convenience:
Advising appointments can be scheduled right from your phone through the Navigate app.
If you have already downloaded Guide, the update to Navigate will be automatic. Still need to download? Search for "Navigate Student" in the Apple Store or on Google Play, and login with your CougarNet ID and password.
Questions? Email navigate@uh.edu
Below is an example of what scheduling an advising appointment will look like: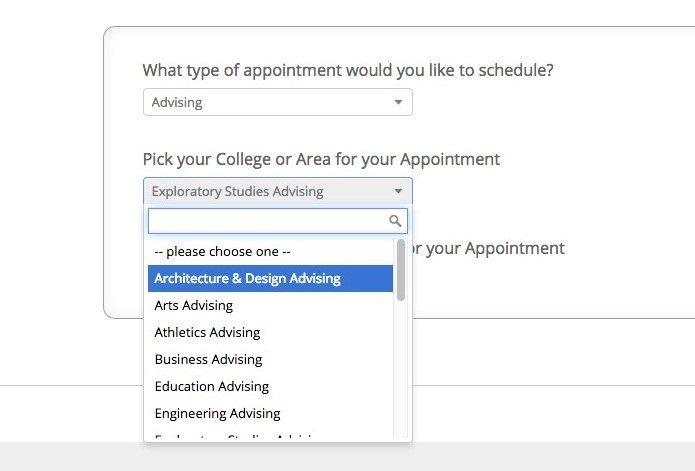 Visit the UH Navigate page for more details on using Navigate and options to schedule the appointment without the app.
When does the advising schedule open?
Advising appointments open 30 days in advance on a rolling basis.
What if I am late for my appointment?
If you are 10 minutes, or more, late you will be asked to reschedule. It is your responsibility to make sure you arrive to your appointment on time. You need to plan ahead for traffic, weather, parking, etc. Students that harass the advising assistant, advisors, or staff when told to reschedule will be escorted from the premises by UHPD.
These are no appointment available, what should I do?
If there are no appointments available, we are fully booked. You can email hhpadvising@uh.edu with your questions or concerns and an advisor should get back to you within 48 business hours. We can answer many questions via email however, Graduation Checks, GPA holds, and other issues will require an appointment.