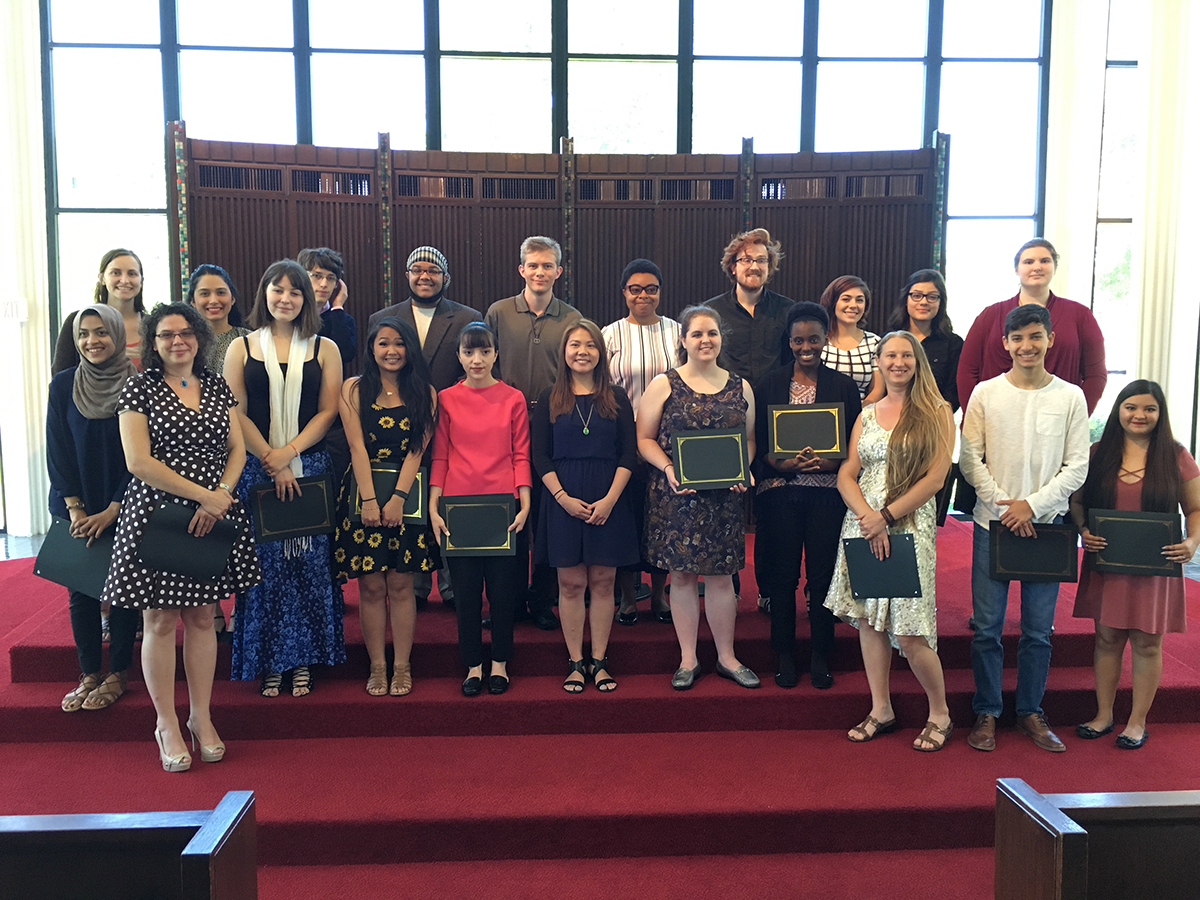 2017 Honors Day Award Winners
Major Requirements
Senior Experience
Senior Experience constitutes three credit hours taken at some point during the final three semesters of coursework in the major. Students choosing the honors thesis option take six credits. Common to all options is an expectation that students will be engaged in an active learning project involving independent research. In the case of the professional internships, the teaching practicum, community engagement/service learning, or learning abroad, students should inquire further into the professional field or areas in which they are interested and develop a reflective inquiry related to the problems and challenges faced by its practitioners or community members.
Literature Concentration:
4396: Senior Experience Seminar (1 offered in fall, 2 in spring)
4391: Advanced Community Engagement or Service Learning courses
4319: English in the Secondary Schools (teaching practicum)
4398: Special Problems Senior Experience course with Research Directed by Faculty Member [req. prior approval of Undergrad Director/Undergrad Committee]
*Learning Abroad: This option, which counts as fulfilling the English Department's Senior Experience requirement, is handled either through the Honors College or Comparative Cultural Studies, and would be assigned a course number through those units.
Creative Writing Concentration:
Senior Writing Projects in Creative Writing: 4353 (Fiction), 4354 (Poetry), or 4397 (Nonfiction)
Honors in English
Students wishing to complete work on a senior honors thesis, and thus to graduate with "honors in English," should begin to arrange their honors project through the Office of Undergraduate Research  in the fall semester of their junior year. For a list of recent English Department honors theses click here
The English Department is home to the Epsilon Phi chapter of Sigma Tau Delta , the English honor society.
The Department hosts an Honors Day each spring to celebrate the accomplishments of our students.
Professional Internship Program
The Department of English professional internship program is designed to give students practical experience that will be helpful in setting career goals and in securing positions after graduation. The program places students in a variety of businesses and non-profit organizations.
Internships are unpaid and consist of at least 70 work hours during the academic semester.  Upon successful completion of all work and course requirements, students receive 3 hours credit (ENGL 4390) that can be applied as English elective hours. Credit for ENGL 4390 is on an S/U basis and does not contribute to your GPA.
To qualify for the internship program, you must:

be an English major with junior or senior standing
have a GPA of at least 3.25 in English
have completed at least 9 hours of upper division English courses (with at least 6 hours on this campus)

If you meet those requirements and are interested in pursuing an internship, please contact Dr. Maria Gonzalez at mgonza@central.uh.eduat least three months before the semester in which you would like to enroll in the internship program.
Awards and Scholarships
English 1303 Writing Award
English 1304 Writing Award
Kathryn Powell Leadership Award
Gulf Coast Editorial Assistant Award
Provost's Prize for Creative Writing
We also encourage students to apply for the Summer Undergraduate Research Fellowship (SURF), the Provost's Undergraduate Research Scholarship (PURS), and the Houston Early Research Experience (HERE). More information on these awards is available from the Office of Undergraduate Research.