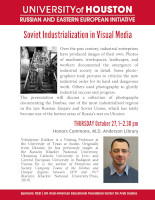 Soviet Industrialization in Visual Media, Dr. Volodymyr Kulikov (UT Austin).
October 27 (THursday), 1-2:30 pm, Honors Commons (2nd floor of the MD Anderson Library, 4333 University Ave). The presentation will discuss a collection of photographs documenting the Donbas, one of the most industrialized regions
in the late Russian Empire and Soviet Union, which has lately
become one of the hottest areas of Russia's war on Ukraine.
---
If you want to offer or sponsor a REEI event, please,
contact Professor David Rainbow (drainbow@uh.edu) or Alexey Golubev (avgolubev@uh.edu)
Image: B. Klinch, Religiia – orudie poraboshcheniia trudiashcheisia zhenshchiny [Religion – the tool of enslavement of a working woman], 1931. Poster collection, Hoover Institution Archives. Source.