Stephanie K. Daniels, Ph.D., CCC-SLP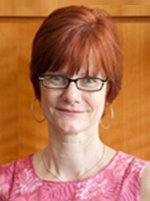 Professor
Phone: (713) 743-2570
Email: skdaniels@uh.edu
Office Location: Melcher Life Sciences M242G
Curriculum Vitae
---
Dr. Daniels is a Professor in Communication Sciences and Disorders at the University of Houston. Prior to her UH faculty position, Dr. Daniels was a research speech-language pathologist at the Michael E. DeBakey VA Medical Center in Houston and the Veterans Affairs Medical Center in New Orleans. Dr. Daniels worked as a hospital-based speech-language pathologist for approximately 15 years prior to focusing on a research career.
Education
Ph.D., Communication Sciences and Disorders, Louisiana State University, Baton Rouge, LA
M.S., Communication Disorders, University of Texas at Dallas, Dallas, TX
B.S., Speech and Hearing Therapy, East Texas State University (currently Texas A&M-Commerce), Commerce, TX
Teaching
Swallowing Disorders (COMD 6321)
Anatomy for Communication (COMD 2376)
Research Interests
Dr. Daniels' research, funded by the Department of Veterans Affairs, is focused on neurogenic dysphagia, primarily stroke. She has pursued an understanding of the neural underpinnings of swallowing and stroke-related dysphagia and developing and validating a swallowing screening tool for suspected stroke. Current projects in continued collaboration with her colleague, Dr. Jane Anderson at the Michael E. DeBakey VA Medical Center are focused on developing a reliable telepractice model for the clinical swallowing examination. For more information, view Dr. Daniels' research page.  
Research Grants
(past 5 years)
2019-2022  Department of Veterans Affairs Rehabilitation Research & Development Spire Grant, Development and Pilot Test of a Clinical Swallowing Examination Protocol for Telerehabilitation Delivery by SLP Services, Role: Co-Investigator 
Selected Publications
Félix-Lusterman, C. C., Joesph, M. E., & Daniels, S. K. (2021). Update on exercise-based rehabilitation approaches for neurogenic dysphagia. Current Physical Medicine and Rehabilitation Reports, 9, 252-266. https://doi.org/10.1007/s40141-021-00333-4

Wilmskoetter, J., Daniels, S. K., & Miller, A. J. (2020). Cortical and subcortical control of swallowing – Can we use information from lesion locations to improve diagnosis and treatment for patients with stroke? American Journal of Speech-Language Pathology, 29(2S), 1030-1043.

Daniels, S. K., Huckabee, M. L., & Gozdzikowska, K. (2019). Dysphagia following stroke (3rd ed.). San Diego, CA: Plural Publishing.

Daniels, S. K., Pathak, S., Mukhi, S. V., Stach, C. B., Morgan, R. O., & Anderson, J. A. (2017). The relationship between lesion localization and dysphagia in acute stroke. Dysphagia, 32, 777-784.

Daniels, S. K., Pathak, S., Rosenbek, J. C., Morgan, R. O., & Anderson, J. A. (2016). The Rapid Aspiration Screening in Suspected Stroke. Part 1: Development and validation. Archives of Physical Medicine and Rehabilitation, 97, 1440-1448.
Honors
Fellow, American Speech-Language Hearing Association
Professional Activities
Dysphagia Research Society, Strategic Planning Council (2020-2022)
NIH Special Emphasis Panel/Scientific Review Group (2019)
Dysphagia Research Society, President (2015-2016)