Dining
UH Dining partners with program for Campus Kitchens Project
By Emily Fahner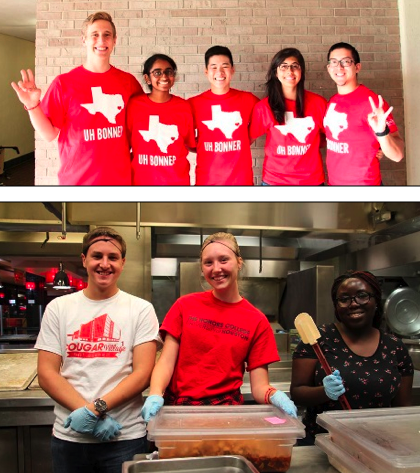 The University of Houston chapter of the Campus Kitchens Project has recovered 618 pounds of food to date from Fresh Food Company and Cougar Woods dining halls.
The Campus Kitchens Project is a student-powered hunger relief program that recovers food that would have otherwise gone to waste and donates it to those in need. UH is the first public university in Texas to participate.
"Our Campus Kitchens Project is part of the Bonner Leader Program and is run by 13 students in the honors program" said Brinda Penmetsa, UH sophomore and project head. "We dedicate between five to 10 hours of community service per week for the project."
A team of students visits Fresh Food Company on Monday, Wednesday and Friday, and Cougar Woods on Tuesday and Thursday.
"Several of the students are ServSafe-certified and perform temperature checks on all food that is being transferred from the dining hall," said Penmetsa.
The food recovered from the dining halls is delivered two or three times per week to New Hope for Housing, which is located in the Third Ward. New Hope claims to be the largest partner in Houston Mayor Annise Parker's initiative to end homelessness in the city. Visit the New Hope for Housing website for more information.
"We are able to build relationships with the residents of New Hope and learn their stories," said Penmetsa. "It is very rewarding and we are proud that our partnership with UH Dining allows for this project to be so successful."
As the program grows, UH Dining will continue its commitment to the program while educating the campus community on the importance of alleviating food waste.
"It is our goal to eliminate extra food waste in the dining halls and what is leftover, we are happy to donate toward the Campus Kitchens Project," said Geoff Herbert, UH Dining resident district manager.