Dining
Food truck program now includes Clear Lake and Sugar Land campuses
By Emily Fahner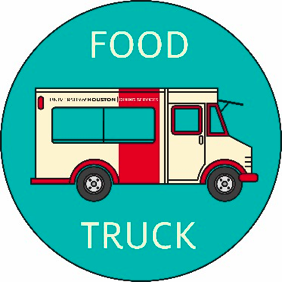 The University of Houston Dining Services food truck program continues to grow and now includes the University of Houston-Clear Lake and University of Houston-Sugar Land campuses.
The program initially began as a way to provide additional options for the campus community when the Student Center was being renovated in 2012, but quickly grew in popularity. The program continued after the construction work was complete and now offers more food truck options.
"We partner with local businesses that not only give back to the Houston community, but provide the campus community with various options each week," said Geoff Herbert, UH Dining Services resident district manager.
The UH-Clear Lake program is in its second year and includes Golden Grill, Chopped N Smoked Halal BBQ, Waffle Bus, Tila's Tacos, Food Patty Wagon and Rice Box.
"We are continuously looking for options to expand the program at the UH-Clear Lake campus," said Herbert.
The UH-Sugar Land campus was introduced to the program this fall. Tu-Go Kitchen is kicking off the pilot program.
"We have partnered with Tu-Go Kitchen and if the program is successful, we will look to add new trucks to the rotation in the future," said Herbert.