Dining
Voice of the Consumer survey allows immediate feedback
By Emily Fahner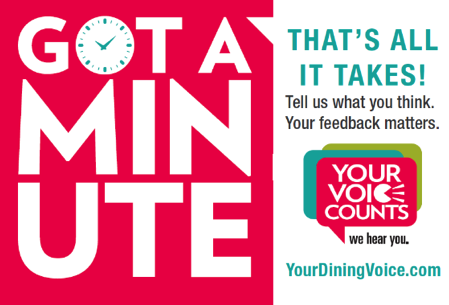 University of Houston Dining Services Voice of the Consumer survey allows customers to provide immediate feedback on a recent dining experience.
The simple survey, which takes only a few minutes to complete, asks customers to choose which on-campus dining location they visited and rate their experience on a scale of 1 to 10. Customers also have the opportunity to provide additional comments on overall experience and service. The survey results are returned to UH Dining Services in either a "WOW" or "RESCUE" alert to each location manager.
"Our location managers take these results and use it as coaching material for the frontline employees," said Torik Banks, UH Dining director of operations. "If additional information is provided, we are able to do on-the-spot training or acknowledge exceptional service and reward those employees."
The information collected from the survey is used to directly contact the customer for any follow-up that may be needed.
"We incorporate the VOC survey into our WEST service model when training our staff. We believe in providing excellent customer service day in and day out," said Banks.
WEST supports the Aramark mission of delivering experiences that enrich and nourish lives as well as the value of selling and serving with passion. WEST stands for welcome, engage, service with a smile, and thank you.