Committee Facilitator Judy Korb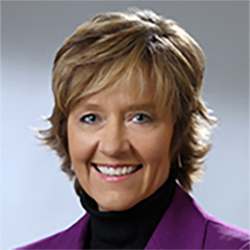 Dr. Judy Korb has over 35 years of experience in education and training. Her background includes business professor, senior administrator in higher education, executive/professional coaching, management and organizational development consulting including needs assessment, meeting facilitation and training for businesses and colleges.
Judy is currently a Professor of Higher Education at Baker University, Mid-America Nazarene University and Rockhurst University in Doctoral and Master's programs and a free-lance organizational development consultant. Judy facilitates planning sessions, meetings and training for companies and colleges on local, regional, and national levels. She consults and delivers training in interpersonal communication, leadership and organizational development and provides professional leadership coaching.
Dr. Korb recently retired from Johnson County Community College in Overland Park, Kansas under an early retirement program. She holds the title of Executive Vice President, Emeritus, Instruction and Operations at JCCC. She served students, staff, faculty and the Board of Trustees in multiple roles throughout her career as she progressively accepted positions of increased responsibility. She started her career at JCCC as a part-time administrative assistant and concluded as the Executive Vice President of Instruction and Operations. As a senior administrator for over ten years, Judy was responsible for providing leadership to Academic Affairs, Student Success and Engagement, Grants and Leadership Development, Institutional Effectiveness, Planning and Research, Continuing Education, Human Resources and Legal Services. Johnson County Community College serves 19,000 students and employs over 2,500 faculty and staff.
In prior roles, Judy spent four years as the Director of Staff and Organizational Development at JCCC. She was a full-time professor at Johnson County Community College where she taught Accounting classes and Human Relations for six years. She has also worked as a consultant in Johnson County Community College's Small Business Development Center assisting area entrepreneurs in developing business plans, creating and analyzing financial statements, conducting feasibility studies and providing general management advice.
Judy spent seven years as the Program Director for Seminars and Special Events in the Center for Business and Technology at JCCC. Her responsibilities included planning and implementing a comprehensive schedule of non-credit seminars and classes to bring companies in the Kansas City metropolitan area the latest concepts and skills in professional development. Judy conducted needs assessments, developed curriculum, delivered training and managed a client base for contract training. She contracted with nationally known management speakers to deliver executive forums two times each year.
Dr. Korb has an Associate of Arts degree in Business from Johnson County Community College, a Bachelor's Degree in Secondary Education/Business from Mid-America Nazarene University, a Master's degree in business from Webster University and a Ph.D. in Educational Policy and Leadership/Organizational Behavior from the University of Kansas.